Artifacts showcase community history for youths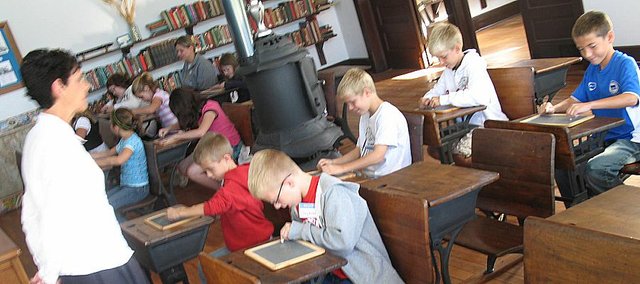 In the midst of learning about communities in their social studies class, third-grade students at Tonganoxie Elementary School took a short field trip last week to learn some long lessons about the community in which they live.
All six third-grade classes went to the Tonganoxie Community Historical Site, where, last week, they got some hands-on learning about the history of Tonganoxie and the state of Kansas.
"The kids love it," TES third-grade teacher Gail Kiefer said. "They like moving around from station to station and seeing all the artifacts in the museum."
A tour of the museum was just one of five stops for the classes on Thursday and Friday. They also saw some artifacts in the site barn, learned about genealogy, heard the history of some Native American tribes in Kansas and found out what it was like to learn in an old-fashioned one-room school.
The lessons they learned coincided perfectly with their current study of communities in their social studies classes, and, Kiefer said, the field trip served the students well by teaching them some Kansas and Tonganoxie history.
"The goal was for them to learn about their community," Kiefer said, "how it has changed over time."
One real eye-opening lesson came when the students heard some history of downtown Tonganoxie. Having traveled up and down Fourth Street on a fact-finding scavenger hunt just a few weeks ago, the children were well-versed in the current businesses and surprised to discover on their field trip that what most recently was the Royale, and for many years, Lenahan's Hardware, was once a movie theatre.
While the third-graders enjoyed hearing from Susy Ross about how Native Americans made quills and used leather, the highlight of the learning excursion might have been the one-room school, where Sarah Kettler passed out slates to the students, who used them to answer some questions.
"They could relate to (the school house) and see how school used to be," Kiefer said.
The Tonganoxie Community Historical Site, the teacher said, is an effective learning resource.
"It's great. The volunteers there have done an incredible job setting everything up," Kiefer said, noting that the museum was "unbelievable."
The quick trip to the site was the first of three field trips for the TES third grade this month. They also will visit the Kansas University Natural History Museum and Prairie Park in Lawrence this month as they study about animals native to Kansas.
For more on the Tonganoxie Community Historical Society and its site, located at 201 West Washington, log on at www.tonganoxiehistoricalsociety.org.