Tonganoxie soccer goes on the offensive
Aggressive attack leads Tonganoxie to three consecutive wins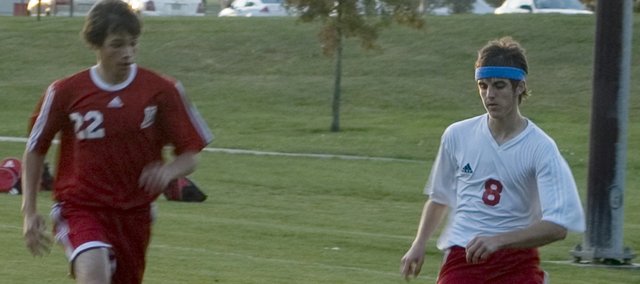 Coming into its Thursday night match with Atchison, the Tonganoxie High soccer team had plenty of incentive to put the ball in the net. Not only had coach Ken Lott been encouraging the Chieftains to take more shots, but every shot they put on goal against AHS would raise more money for the Sportin' for Leukemia fundraiser.
With that in mind, it took less than five minutes for THS to score a goal at Chieftain Park, opening the first-half floodgates for Tonganoxie as the Chieftains defeated Atchison, 4-1, on Senior Night.
The powder blue headbands the Chieftains wore in support of the fundraiser doubled as reminders to keep on firing as they racked up 32 shots, which was just fine with Lott.
"I've been wanting them to shoot more from outside the 18 when they get an opportunity because you never know how many opportunities you're going to get in a game," Lott said, noting that their aggressiveness should serve as a good precursor to their last few games of the regular season. "Sometimes (the shots) go in, sometimes they don't, but at least we have those shots."
Brazilian foreign exchange student Joao Martins opened the first-half scoring attack with a goal in the fourth minute — the first of four scores for Tonganoxie in the first half — after he gathered a pass from junior Tyler Woolworth.
Woolworth again was involved on the team's second score, which came off his boot as he bent a shot left-to-right and into the net in the 15th minute after a pass from senior Jamison Bloomer put him in position to score.
Bloomer scored the following goal for THS in the 26th minute. He put the Chieftains up, 3-0, on a free kick from about 25 yards out after he drew a foul while attacking the AHS defense. Lott said the impressive free kick was something Bloomer had spent a lot of time perfecting.
"Obviously, you could tell he'd been working on it for a while, trying to get it to bend in like he did," Lott said, adding that Bloomer's skills are really blossoming in his senior year.
Just 30 seconds after Bloomer's free kick, Tonganoxie scored its fourth and final goal of the evening on another score by Martins, who, after stealing the ball from an AHS defender, put a shot off the left post that ricocheted in. Lott said, because Martins has such a talented and accurate foot, he wants him taking shots, even through the smallest windows of opportunity.
"He's got phenomenal ball skills," Lott said, adding that when Martins is on, THS is usually successful.
Seemingly every time Martins gets an open shot at the goal, Woolworth added, the Brazil native turns it into a goal.
"He's amazing," Woolworth said with a chuckle.
If there was any disappointment for Tonganoxie after the team picked up its first home win of the season, it was that the scoring output didn't continue in the second half.
"We were down on that," Woolworth said. "But we won; we're happy."
Lott said THS made fewer mistakes in the first half, leading to a 4-0 margin. But the Chieftains didn't get the same opportunities in the second half. Bloomer, too, hoped the Chieftains would score a few more on Senior Night. But he was impressed with the team's ball movement while scoring four goals, which tied a season high.
"We worked the ball better than we ever had," Bloomer said.
Three in a row
After starting the season 0-5-1, the Chieftains are playing much better soccer of late. On Monday evening, THS traveled to Turner and scored a 2-1 victory.
Tonganoxie (4-8-1) picked up its first goal from Martins and got the deciding score on a penalty kick.
Woolworth had a breakaway and was knocked down from behind by a Turner defender about six yards away from the goal. Bloomer took the PK for the Chieftains and put it in the net.
With the victory against Turner, the Chieftains picked up their fourth win in seven matches. THS scored 15 goals in those seven matches after scoring just five goals in the six contests before that.
"Hopefully, we can keep the run going," Lott said.
Tonganoxie plays at Bishop Ward on Thursday and travels to Atchison on Tuesday.