Anticipation continues as skate park moves forward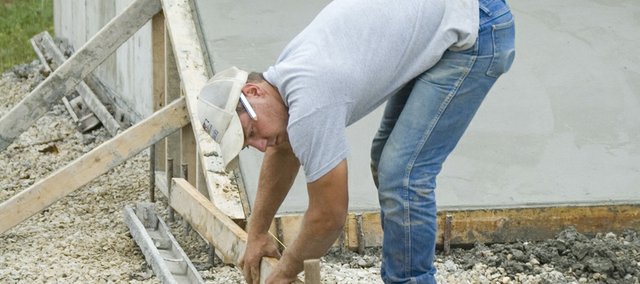 Weston Jones sees the project get closer to becoming a finished product day by day.
A 15-year-old Tonganoxie High School freshman and skate enthusiast, he watches as workers form more and more cement for what will be the Tonganoxie Skate Park just south of Beatty Field, the THS football stadium, on the high school campus.
Jones said he was eager to use the park, but noted it was hard to put into words his excitement.
It's been a long journey for proponents of the project. Original talks started in 2001, when students in junior high school at the time led the charge to convince the city to build a park. Donations trickled in for the park, but the idea of a skate park sputtered. One day it was on the front burner at City Hall. The next, it was a distant thought for the Tonganoxie City Council. But now, the skate park is rolling.
In September, the Tonganoxie City Council approved $100,000 in funding for the project. The total price tag came to just more than $101,000. The council approved funding, with the stipulation that skate park proponents pay the rest. The group, made up of skaters and their parents, has been raising money for the project and presented a check for the difference the next day to City Administrator Mike Yanez.
"If you're just a beginner or intermediate skater, you may find this park to be pretty good for you," Yanez said. "I think we're going to have some visitation to the park from other communities."
The park, which Meadows Construction of Tonganoxie is building, will be more than 56,000 square feet. David Hamby of BG Consultants in Lawrence, the city's engineering firm, drew up plans for a 10,000 square-foot park, but the council scaled it back for the more affordable option. The second phase of the project is not in the foreseeable future.
Hamby said Lawrence has a skate park, as does Lenexa and Salina, while Topeka has two. Although Tonganoxie isn't as large a city as either Ottawa or Bonner Springs, they are communities that have skate parks also.
"What I think is unique is that most of these smaller communities have used prefabricated materials," Hamby said. "And this is cast-in-place concrete.
"This is a custom park for the city and not just a prefabricated feature drawn out on a concrete slab."
Jones envisions skaters getting a great deal of mileage out of the park. Finding a proper place to skate can be a tough task without an actual skate park.
"I really think everyone's going to be amazed by how many kids will be there," Jones said.
He looks for the hobby to inspire younger youths to pick up the activity and add to the skating community.
Yanez said maintaining the park will be an important part of making the project a success.
"I hope we don't wake up some morning and find graffiti, trash and broken glass there at the facility," he said. "It's going to require observation, a lot of self- discipline by patrons. It's gong to take maintenance by city crews to maintain that facility."
As for expanding the facility down the road, Yanez said that could be accomplished by working with the skating community or others.
"Any user group that wants to get involved with coming up with funds, even volunteer efforts, to expand or maintain an existing city facility shows a great spirit of ownership and we'd love to work with groups like that," Yanez said.
When the park is completed, its hours will be 8 a.m. to 8 p.m., daily. Also, a helmet, elbow and knee pads must be worn at the park.
Skate park organizers meet the second Wednesday of the month at 7 p.m. at Tonganoxie Public Library, Third and Bury streets. The group Tonganoxie Ride and Roll, also has an account set up at Community National Bank in Tonganoxie if anyone would like to make donations to its cause.