Volleyball teams heading down homestretch
Sub-state just around the corner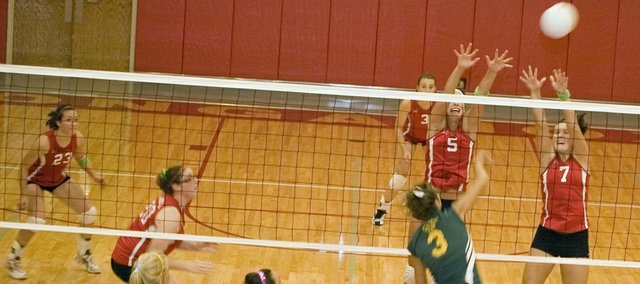 Tonganoxie goes 2-0 at Perry-Lecompton
After spending the first few weeks of the season hovering around .500, the Tonganoxie High volleyball team appears to be clicking at the right time with the postseason just ahead.
The Chieftains picked up two more wins Tuesday night at Perry-Lecompton, defeating the Kaws, 25-19 and 25-15, and Piper, 25-14, 25-14.
THS has won seven of its last nine matches and is now 18-13 on the season.
The Chieftains play two more times on Thursday before the Kaw Valley League Tournament begins on Saturday at Lansing at 8 a.m.
Tonganoxie will play in the Class 4A sub-state tournament at Eudora on Saturday, Oct. 25. Other teams at the site are: Atchison, Basehor-Linwood, DeSoto, Eudora, Piper, Sumner Academy and Bishop Ward.
The Chieftains have defeated Basehor-Linwood, Eudora and Piper this season. They lost to DeSoto earlier this year.
McLouth splits at home
McLouth High went 1-1 at its home triangular on Tuesday.
The Bulldogs defeated Valley Falls in two games, 25-22 and 25-18, but lost to Pleasant Ridge in two, 25-21 and 25-20.
MHS (19-11) plays in the Delaware Valley League Tournament on Saturday and plays host to Highland Park on Tuesday before heading to Easton for Class 3A sub-state competition at Pleasant Ridge on Saturday, Oct. 25.
Other schools competing at the site are: Maur Hill-Mount Academy, Pleasant Ridge, Atchison County, Horton, Oskaloosa, Sabetha and Jefferson County North.
The Bulldogs have beaten Maur Hill-Mount Academy and Horton this year. They split with Jefferson County North and lost to Oskaloosa and Pleasant Ridge.