Tonganoxie City Council set to meet Monday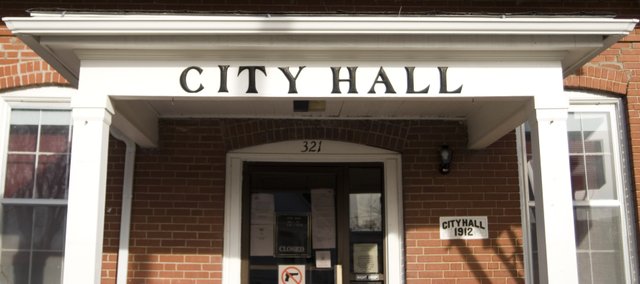 The Tonganoxie City Council will meet at 7 p.m. Monday in City Council Chambers.
Here is the agenda for the meeting:
I. Open Meeting – 7 p.m.
II. Consent Agenda - (Routine & Customary Items)
a. Approval of Minutes –
1. Regular Meeting dated October 6, 2008
2. Special Meeting dated October 8, 2008
b. Consider approval of pay request #2 to Meadows Construction for progress on skate park in the
amount of $20,581.06.
c. Consider Approval of Bills – Approve Pay Ordinance A-1592
III. Open Agenda
"Members of the public are welcome to use this time to comment about any matter relating to City business. The comments that are discussed under Open Agenda may or may not be acted upon by the Council during this meeting. Please wait to be recognized by the Mayor, then state your name and address and all comments are to be directed to the chair."
a. Joe and Bonnie Hicks – discuss a rezoning request at 4th & Green.
IV. Old Business
a. Consider Contract for City Administrator Services
V. New Business
a. Consider adding the word "before" in front of 5:00 AM to Ordinance 1260 to clarify the hours the park will be closed and authorize republication of the same.
b. Consider renewal of Financial Statements and Audit Contract
c. Consider renewal of license to operate "mobile home park" within the City limits – Country Hills
d. Consider Resolution 10-08-01 adopting an "Identity Theft Prevention Program" for the City of Tonganoxie
e. Executive session to discuss land acquisition
f. City Administrator Agenda
1) 2008 Water Park Financial Information
g. City Attorney Agenda
h. Mayor's Agenda
i. Council President Agenda
j City Council Agenda
VI. Adjourn
VII. Information & Communications (No Action Required)
a. Final valuation information from the Leavenworth County Clerk
b. Thanks you letter from Heartland Habitat for Humanity
c. Residential Building Permit Statistics – September 2008
d. 2008 Water Purchased and Sold PWWD #6
e. Minutes of the Tonganoxie Library Board 09-17-08
f. Library Director Report September 2008
g. Information item concerning promotion at the Library
h. Library October 2008 newsletter
i. KDHE Public Water Supply – Sanitary Sewer Inspection report
j. Tonganoxie Recreation Commission Minutes 09-18-08
k. September 2008 Budget Report