Bobcats too much for Tonganoxie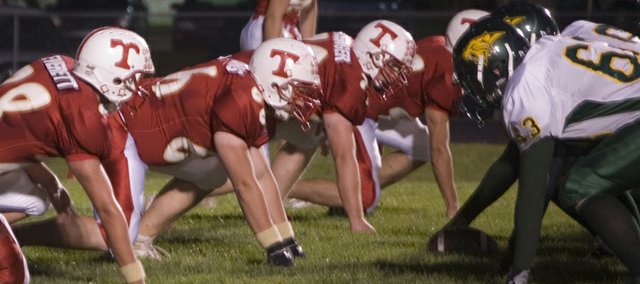 Basehor-Linwood scored 35 unanswered points at Tonganoxie High on Friday night as the Bobcats defeated the Chieftains, 38-15, in the first week of district play.
BLHS (3-4) got on the scoreboard first with a 21-yard field goal from Kyle Savner in the first quarter following a THS fumble on a high snap that the Bobcats recovered at the THS eight-yard line.
Tonganoxie (4-3) responded with an eight-play, 79-yard drive that included a 29-yard run by senior quarterback Zack Robinson, a 36-yard run by junior back Jeremie Maus and an easy one-yard score by Robinson to put THS ahead.
However, BLHS dominated from that point on. Junior Bobcats quarterback Brandon Leppke scored two touchdowns on the ground and threw for two more as BLHS cruised to victory.
Tonganoxie sophomore running back Tucker Hollingsworth scored on a 10-yard run with just 27 seconds to go to break the Chieftains' 37:50 scoring drought.
The game can be viewed on Sunflower Broadband Ch. 6 on Saturday morning at 11 a.m. and will also be available via Sunflower On Demand.
THS travels to Piper on Friday for its second week of district play.
SCORE BY QUARTERS
BLHS 3 7 14 14 — 38
THS 7 0 0 8 — 15
HOW THEY SCORED
FIRST QUARTER
(6:10) Kyle Savner, BL, 21 field goal. (BL 3, THS 0).
(2:07) Zack Robinson, THS, 1 run. Robinson kick. (THS 7, BL 3).
SECOND QUARTER
(1:41) Brandon Leppke, BL, 1 run. Savner kick. (BL 10, THS 7).
THIRD QUARTER
(8:34) Leppke, BL, 30 run. Cole Bittel pass failed. (BL 16, THS 7)
(3:59) Steyr Stubenrauch, BL, 25 pass from Leppke. Ben Zuk pass from Leppke. (BL 24, THS 7).
FOURTH QUARTER
(5:04) Colin Murphy, BL, 5 pass from Leppke. Savner kick. (BL 31, THS 7).
(2:52) Logan Ross, BL, 32 pass from Murphy. Savner kick. (BL 38, THS 7).
(:27) Tucker Hollingsworth, THS, 10 run. Ian McClellan run. (BL 38, THS 15).