Murder convict's sentencing hearing rescheduled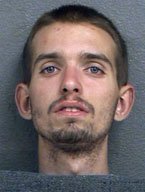 The sentencing hearing for Robert Haberlein, 20, Kansas City Kan., was changed from 3 p.m. Friday to 3 p.m. Nov. 21 in Division 4 of the Wyandotte County Courthouse. The court gave no reason for the change which is the second time the hearing has been rescheduled.
In May a jury found Haberlein guilty of first-degree murder, aggravated kidnapping and aggravated robbery in connection with the murder of Robin Bell, a Tonganoxie resident and manager at the northside Dollar General in Bonner Springs. Haberlein's sentencing had originally been scheduled for May but was rescheduled for Friday for a reason not given by the court.
Haberlein's attorney, KiAnn McBratney, had said after the trial she would ask for a new trial for her client but wouldn't elaborate on what grounds the new trial would be requested. She will have an opportunity to argue before Judge John McNally for a new trial at the hearing, said Chris Schneider, Wyandotte County assistant district attorney.
Jury selection for the trial for another suspect in the case, Jim Backus, 22, Bonner Springs, is scheduled to begin Jan. 12, 2009 in Division 4 before McNally, and the trial is to begin that week.