Bobcats score 35 straight points at Tonganoxie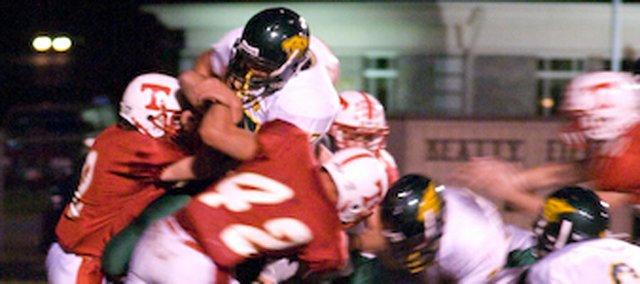 For a while on Friday night, Tonganoxie High's football team had to feel pretty good about itself. The Chieftains were up early on rival Basehor-Linwood after they recovered nicely from a turnover deep in their own territory.
But after Tonganoxie went ahead in the first quarter, it was all Bobcats the rest of the way as Basehor-Linwood scored 35 unanswered points at Beatty Field, defeating the Chieftains, 38-15, in the first week of district play.
BLHS (3-4) got on the scoreboard first with a 21-yard field goal from Kyle Savner in the first quarter following a THS fumble on a high snap that the Bobcats recovered at the THS eight-yard line.
Tonganoxie (4-3) responded with an eight-play, 79-yard drive that included a 29-yard run by senior quarterback Zack Robinson, a 36-yard run by junior back Jeremie Maus and an easy one-yard score by Robinson to put THS ahead.
However, BLHS dominated from that point on. Junior Bobcats quarterback Brandon Leppke scored two touchdowns on the ground and threw for two more as BLHS cruised to victory.
THS coach Mark Elston, asked about his team's defensive problems, went another direction with his answer.
"The biggest problem we had defensively was our offense," Elston said. "We never could get field position. We were playing on our side of the 50 the whole time."
True, the Tonganoxie offense, which usually features an effective ground attack, sputtered at times. THS, averaging about 280 yards per game on the ground coming into the rivalry showdown with BLHS, only ran for 184 yards against the Bobcats. The Chieftains did have eight carries of 10-plus yards, but five of those came in the fourth quarter when the game was already out of reach and backups from both teams were on the field.
Maus (eight carries, 49 yards) said BLHS swallowed up the smaller Chieftains.
"They pretty much just out-sized us," Maus said of the team's problems running the ball, before adding that was no excuse and Tonganoxie's backs should be able to maneuver around their opponents' bigger lineman and linebackers.
Elston said the THS line didn't get much push off the ball and lost the battle at the line of scrimmage.
"We had some blocking assignments that weren't very sound and they whipped us," the coach said, adding that the offense seemed to be going in reverse. "Any time you're running the option and your feet are coming backwards that isn't good."
The offensive backpedaling led to second- and third-and-long scenarios all night for THS, which worried Elston.
"We're mentally fragile right now because if something doesn't work, we got deer-in-the-headlights looks on second and third downs," he said.
However, Maus thought the team would regroup this week with a district contest at Piper (1-6) next on the slate.
What do they have to do to avoid a repeat performance against the Pirates on Friday?
"Practice, practice, practice," Maus said. "Just get better, get everything we can from films and see if we can get a win next week."
Winning on the road in a district showdown won't come easy though, Elston pointed out.
"They're all difficult at this point. They're all gonna be dog fights," he said. "Everybody's fighting for the same prize now — it's which dog wants to eat and which dog doesn't."
Elston said he hopes the Chieftains show up hungry at Piper because they got "complacent" after taking an early lead against BLHS and "didn't maintain that intensity" they showed early in the contest.
SCORE BY QUARTERS
BLHS 3 7 14 14 — 38
THS 7 0 0 8 — 15
RUSHING
THS: Zack Robinson 16-53, Jeremie Maus 8-49, Tucker Hollingsworth 3-35, Brady Waldier 3-26, Jeremy Carlisle 2-20, Ian McClellan 1-1, D.J. Lindsay 2-minus-4, Austen Holloway 3-minus-6.
PASSING
THS: Robinson 2-6-12, interception, Jeremy Wagner 0-2-0.
RECEIVING
THS: Holloway 1-2, Dylan Scates 1-10.
HOW THEY SCORED
FIRST QUARTER
(6:10) Kyle Savner, BL, 21 field goal. (Basehor-Linwood 3, Tonganoxie 0).
(2:07) Zack Robinson, THS, 1 run. Robinson kick. (Tonganoxie 7, Basehor-Linwood 3).
SECOND QUARTER
(1:41) Brandon Leppke, BL, 1 run. Savner kick. (Basehor-Linwood 10, Tonganoxie 7).
THIRD QUARTER
(8:34) Leppke, BL, 30 run. Cole Bittel pass failed. (Basehor-Linwood 16, Tonganoxie 7)
(3:59) Steyr Stubenrauch, BL, 25 pass from Leppke. Ben Zuk pass from Leppke. (Basehor-Linwood 24, Tonganoxie 7).
FOURTH QUARTER
(5:04) Colin Murphy, BL, 5 pass from Leppke. Savner kick. (Basehor-Linwood 31, Tonganoxie 7).
(2:52) Logan Ross, BL, 32 pass from Murphy. Savner kick. (Basehor-Linwood 38, Tonganoxie 7).
(:27) Tucker Hollingsworth, THS, 10 run. Ian McClellan run. (Basehor-Linwood 38, Tonganoxie 15).