Chieftains host
KVL

title races
Runners hope meet prepares them for upcoming regional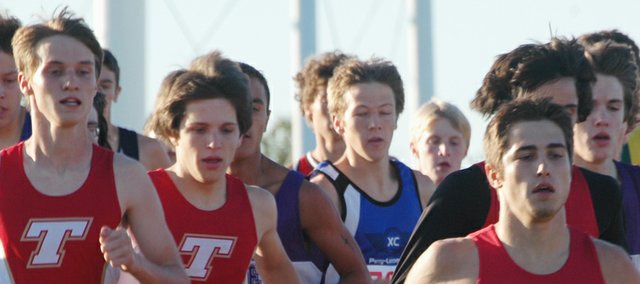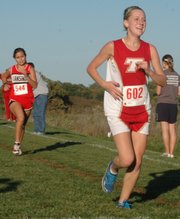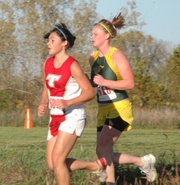 With Kaw Valley League titles on the line, Tonganoxie High's cross country runners had just what they wanted — a sunny afternoon and home-course advantage.
But the Chieftains didn't fare as well as they hoped to at the Tonganoxie course Thursday.
Lansing won the girls title, Santa Fe Trail took the boys crown, Katie Hirsch of Perry-Lecompton won the girls 4K and Brandon Craig of Lansing finished first in the boys 5K.
THS had one top-10 finisher among its runners thanks to junior Andie Jeannin, who finished 10th in the 4K, posting a time of 16:36. Senior Matt Brock was the boys' top runner, completing the 5K in 17:29.
Jeannin said the girls' third-place finish was nothing about which to be ashamed.
"It's exciting because Lansing and Mill Valley are both 5A," she said of the two teams that finished ahead of the Chieftains.
Plus, Tonganoxie got to exact what Jeannin called "a little revenge" in the process. The THS girls finished third even though they had the same point total (85) as Basehor-Linwood. The tie-breaker is decided by comparing the times of each team's sixth-best runner. Tonganoxie senior Kayla Leffert's time of 18:17 bested the 18:47 posted by the Bobcats' Jane Heinen. Two years ago, Tonganoxie and BLHS tied and the break went the other way.
It was a solid team effort for the THS girls at league with Alex Hauk, Addy Phelps and Sarah Williams all joining Jeannin in the top 25.
"I'm just glad we had so many (in the top 25)," Jeannin said. "Especially since regionals are coming up. Hopefully, it will rub off there. This is a good race to start getting all of our things together."
Coach Phil Williams said the girls ran much better at the KVL meet than they had the previous week, and praised Sarah Williams for her improvement, noting she went from "barely medaling" in her first JV race of the season to becoming the fourth runner on the varsity.
"She has helped us immensely," the coach said.
Boys fifth
Somewhat disappointed in their performance, Tonganoxie's boys finished fifth in team points at the KVL meet.
Senior Dalton Lawson thought the team's seniors showed well in their final run at Tonganoxie.
"Before the race it pumped everybody up — mainly me, David (Powell) and Matt (Brock) — because it was our last race here," Lawson said.
All three seniors (as well as sophomore Joel Dunning) finished in the top 30.
Brock wished he would have posted a better time because he finished in the top five at KVL last year, but he was glad to see the team improving.
"I remember looking back and seeing Dalton (Lawson) and Joel (Dunning) and they weren't too far behind," Brock said, indicating that he hasn't always been able to see teammates that close this season. "I think we did better as a team this week and we did a lot better than last week (when THS finished 13th at Mill Valley)."
Williams liked their effort at home.
"The varsity boys attacked the race well, but just couldn't maintain their position near the front all the way," Williams said, noting that three of the four teams (Mill Valley, Bonner Springs and Turner) who beat them were Class 5A.
JV boys victorious
The THS boys junior varsity team won at the KVL event, defeating Bonner Springs by a single point.
The Chieftains got the win thanks to three top-10 finishers — Tommy Heskett (fourth, 19:00), Matt Titterington (seventh, 19:05) and Brady Field (10th, 19:17).
The girls JV squad finished third and had two top-10 finishers. Cristina Rubio was seventh, 18:53, and Nicole Gersbeck was ninth, 19:13.
Regional coming Saturday
While KVL marked the end of the junior varsity season, next up for the varsity runners are 4A regional races at Wyandotte County Park on Saturday, when state berths will be up for grabs.
The top three teams in the girls 4K (3 p.m.) and the boys 5K (4 p.m.) will qualify for state, as will the top five individuals in each race who aren't from one of those schools.
Williams said the regional will be ultra-competitive and it should be a difficult road to state.
"In the girls' race, the No. 1 and No. 2 teams in the state (Baldwin and DeSoto) are there, and the third spot should be between us, Eudora, and Basehor-Linwood," he said. "For the boys, three of the top five teams in the state are there (Baldwin, DeSoto and Paola), but we hope we can put it together and catch Paola by surprise."
So does Lawson, who said Tonganoxie's seniors — himself, Brock and Powell — would like to go to state.
"There's a lot of emotion in the sport itself," he said, "so to keep it going would be nice."
Girls 4K
Team Scores
1. Lansing, 36; 2. Mill Valley, 70; 3. Tonganoxie, 85; 4. Basehor-Linwood, 85; 5. Perry-Lecompton, 116; 6. Santa Fe Trail, 117.
Tonganoxie Results
16. Alex Hauk, 17:00; 20. Addy Phelps, 17:20; 21. Sarah Williams, 17:20; 27. Lauren Hall, 17:31; 37. Kayla Leffert, 18:17; 43. Lauren Himpel, 20:30.
Boys 5K
Team Scores
1. Santa Fe Trail, 55; 2. Mill Valley, 61; 3. Bonner Springs, 90; 4. Turner, 100; 5. Tonganoxie, 120; 6. Lansing, 122; 7. Perry-Lecompton, 189; 8. Basehor-Linwood, 211; 9. Piper, 217.
Tonganoxie Results
15. Matt Brock, 17:29; 25. Dalton Lawson, 18:08; 26. David Powell, 18:09; 28. Joel Dunning, 18:11; 31. Patrick Rachford, 18:18; 39. Dalton Harrington, 18:32; 48. Caleb Himpel, 19:10.
JV Girls 4K
Team Scores
1. Mill Valley, 30; 2. Lansing, 43; 3. Tonganoxie, 57; 4. Basehor-Linwood, 109.
Tonganoxie Results
7. Cristina Rubio, 18:53; 9. Nicole Gersbeck, 19:13; 12. Lindsey Cox, 19:16; 15. Ashley Kotowske, 19:41; 18. Lexi Faherty, 19:17; 23. Melissa Hughes, 20:21; 26. Taylor Clark, 20:26; 34. Hanna Swedo, 21:27; 35. Jourdan Tanking, 21:28; 40. Rachel Collinge, 22:16; 46. Lauren Huges, 26:18.
JV Boys 5K
Team Scores
1. Tonganoxie, 56; 2. Bonner Springs, 57; 3. Mill Valley, 61; 4. Santa Fe Trail, 70; 5. Piper, 114; 6. Basehor-Linwood, 139.
Tonganoxie Results
4. Tommy Heskett, 19:00; 7. Matt Titterington, 19:05; 10. Brady Field, 19:17; 12. Keith Slater, 19:37; 25. Cooper Gish, 20:30; 28. Daniel Holton, 20:50; 32. Dylan Anderson, 20:59; 35. Caleb Iamkui, 21:08; 37. Jared Knipp, 21:16; 38. Kavet Letourneau, 21:16; 43. Robert Brotherton, 22:07; 44. Ben Field, 22:25; 48. Stephen Wilson, 23:01; 51. Bobby Edmonds, 23:46; 54. Wyatt Letourneau, 26:34.