Joao: Tonganoxie's Brazilian Bert
Martins' game translates better than first name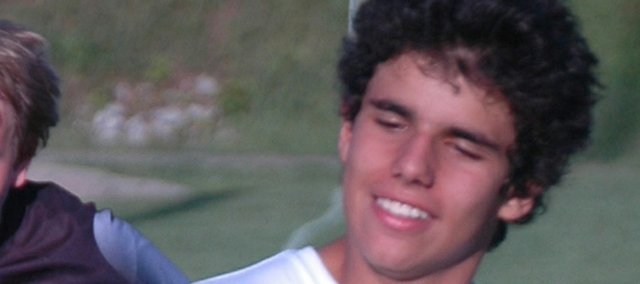 Brazil and soccer nearly are synonymous.
So much so that some of the nation's all-time greats are known by their first names alone — Pelé, Ronaldo, Ronaldinho.
Now the Tonganoxie High soccer team has a Brazilian import of its own that the Chieftains know by one name: "Bert."
Unlike his legendary countrymen, however, Bert is not the 15-year-old exchange student's given name. He is actually Joao Martins.
But because they couldn't quite wrap their tongues around the Portuguese pronunciation of Joao (Jzho-uh), his teammates and coaches at THS — prompted by assistant Coach K's assessment that Martins looked like Bert from the children's television show "Sesame Street" — decided to call him by that moniker instead.
"We spent almost three practices trying to figure out his name," recalled Andrew Bouza, not just a teammate of Martins' at THS but also part of his host family in Tonganoxie.
But Martins understood, because he was going through the same struggles with English.
"You can take 10 years of English classes in Brazil and you can come here and you won't understand anything because the accents are really different," he said.
Knowing that, his teammates' inability to say his name didn't bother Martins any.
"It's like really difficult to pronounce," he said.
THS senior Austin Smith admitted as much.
"You have to make this Portuguese-specific noise that nobody knows how to make. And he always gets mad when you try to pronounce it," Smith said of trying to say "Joao."
In the heat of battle, it's just simpler for the Chieftains to yell: "Bert!"
"That way when you're on the field," Smith explained, "you're not like: Jzzhh-ougghh!"
Welcome to Tonganoxie
While his teammates struggled with his name, it didn't take Martins long to adapt to things here, even though it was difficult at first.
"The first two weeks, I wasn't comfortable," Martins said. "I wasn't understanding a lot when people were talking and I wasn't understanding classes and I was with a new family."
And even though he still confuses his English vocabulary every once in a while — last week teammates asked Martins how he cut his leg, and he told them he was "hailing bay" (rather than baling hay) at the Bouza home — he now feels acclimated to the language, his school and his host family.
A THS junior, Bouza, whom Martins calls a "brother," said the visiting Brazilian has adapted well to Tonganoxie on and off the pitch.
"He's really outgoing. He's done everything with me from Day 1," Bouza said, noting that the two have went hunting, checked beaver traps, played FIFA on PlayStation and gone to football games together since Martins arrived in September. "Honestly, he's the coolest 15-year-old I know."
His smooth transition to life in Tonganoxie, a town of about 4,100 people, is a bit extraordinary considering he came here from Sao Paulo, Brazil's most populous city with more than 10 million residents.
"Here, I live in the country. There, I live in an apartment," Martins said.
He also had to adapt to some other things, like the different kinds of cars and bigger trucks that people drive here, eating cereal or pancakes for breakfast instead of hamburgers and having homework be a critical part of his school grades.
Learning experience
He is grateful for the opportunity to learn hands-on about a foreign country while he is studying abroad until February.
"I wanted to improve my English and have another experience of life that's different from the city," Martins said of his reason for coming here even though he didn't know anything about Tonganoxie or Kansas before he arrived.
Little by little, he has learned a great deal about American culture, such as how football works — "I like it. I've never played before, but I like to watch," he said — but Martins has also given some lessons as a member of the Tonganoxie soccer team.
Since Martins' arrival, coach Ken Lott said the Chieftains have been thoroughly impressed with him as a person and a player.
"Everybody wants to be his friend because they want to pick his brain," Lott said. "He's got so much experience from a different style of play."
Smith, who spent some time taking shots with Martins after practice last week, said it was cool having a Brazilian teammate with a wealth of soccer knowledge.
"He's got really good foot skills," Smith said of Martins, adding that he knows all the tricks of shooting and passing. "He can hit the upper-90 pretty accurately."
Soccer shock
Even though Martins has been playing the sport they call football in Brazil since the age of 5, he had to adjust to the way Americans play what they call soccer. He said in Brazil the game is faster and has more finesse. The style was so clashing, he nearly injured himself in his first match.
"The players here are stronger," Martins said, flexing his upper body for emphasis while describing the sport's more physical American style. "Brazil is easier."
It wasn't just the contrasting style of play that befuddled Martins at first either. Some things he could do in a Brazilian soccer match weren't allowed in a prep contest in Kansas. That led to a couple yellow cards.
"The refs are really different," he said. "I didn't understand it."
Fitting in
The camaraderie that comes with playing on a soccer team, however, wasn't lost in translation. Martins is having a ball at THS.
"I love playing soccer here," he said. "Even if we're winning or losing, I love playing."
Martins, who has scored five goals for THS (4-9-1 heading into a road match at Atchison on Tuesday), also loves his fellow Chieftains.
"I think my best friends are the soccer team because I'm always with them," Martins said.
Lott was not surprised to see the team accept its Brazilian "Bert" so readily.
"Soccer, it's a different type of a community," the coach said, noting Martins' love of the game made him a part of the clique. "It's a small community, typically, and when you have somebody coming in from the outside .. they're automatically accepted."
Even if his name is hard to pronounce.