New and improved Chieftains
Tonganoxie volleyball has won 14 of last 17 matches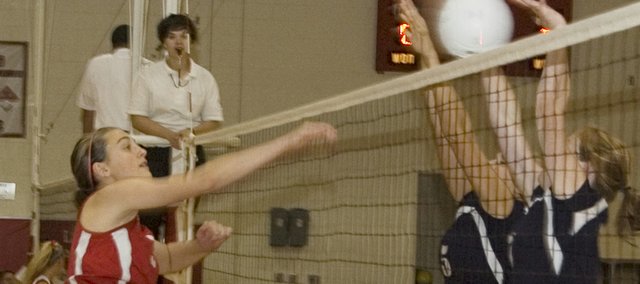 Photo Gallery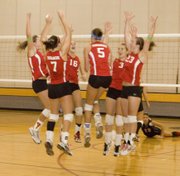 Chieftains go 5-1 at KVL tournament
The Tonganoxie High volleyball team improved to 25-14 on the season and finished second at the inaugural Kaw Valley League Tournament on Saturday at Lansing.
Lansing — A few weeks ago, Tonganoxie High's volleyball team just wasn't clicking.
Co-coach Brandon Parker said the Chieftains weren't playing as a team, and were instead focused on individual goals.
"It showed in our play because, frankly, we weren't very good," Parker said.
There's good news on that front for THS though. That team hasn't been seen in quite some time.
And it was nowhere to be found on Saturday as the Chieftains battled host Lansing for a Kaw Valley League championship.
A new, improved version of THS was on the court at the KVL tourney. The Chieftains 2.0 are clicking. They are playing as a team. And they are rolling.
Having won nine of its previous 11 matches heading into the tournament, Tonganoxie remained red-hot, picking up five straight wins to land a berth in the very first KVL postseason tournament final.
Although THS lost to the Lions in two games, 25-15 and 25-18, Tonganoxie went 5-1 on the day to improve its season record to 25-14.
Three weeks ago, 25-14 didn't even seem possible. The Chieftains were 11-11 a few days after finishing sixth at their home invitational. Parker said the transition happened rather naturally as the team gained experience and confidence on the court and started coming together as a team off the court, which has translated into better volleyball.
Sophomore Molly O'Hagan, whose length, range and athleticism has made her a force for THS, said the Chieftains have played some tough opponents and had some success.
"We know now what our potential is," she said, adding that the team wants to get even better. "Each game is a learning experience and each game is preparing us for sub-state and that championship game."
Sub-state (Saturday at Eudora, 2 p.m.) is next on Tonganoxie's agenda and at the front of all the players' minds, senior Megan Puhr said, because not many observers believed they would be where they are now.
"We're just focused as much as we can be on sub-state right now," Puhr said. "Our goal is to prove everybody wrong this year and we're just feeding off that."
Tonganoxie got a taste of the postseason at the KVL tournament. The Chieftains went 4-0 in Pool No. 2 on Saturday morning, defeating Turner, Bonner Springs, Santa Fe Trail and Bishop Ward, and didn't lose a game in the process. As their pool's first-place team, the Chieftains took on Mill Valley, who finished second in Pool No. 1, in the semifinal. After losing its first game of the day, 25-23, Tonganoxie rallied to win the next two, 25-20 and 25-23, to win the match and advance to the final. THS junior Abby Eisman had four kills in that game, including an emphatic one on the emotional, match-winning point.
O'Hagan said the KVL experience should do the players well as they move on to sub-state.
"It prepares us a lot because we were put in some tough situations and we pulled through," O'Hagan said. "I think at sub-state we've got a great chance of pulling it through and I think we're going to rock it."
When the Chieftains hit Eudora this Saturday (pairings will be announced Wednesday, check back with The Mirror's Web site for matchups) for a Class 4A sub-state, single-elimination tournament, Atchison, Basehor-Linwood, DeSoto, Eudora, Piper, Sumner Academy and Bishop Ward will be waiting for them. The Chieftains have defeated Basehor-Linwood, Bishop Ward, Eudora and Piper this season. They lost to DeSoto earlier this year and haven't faced Atchison or Sumner.
Parker, however, said the past won't matter much once the competition begins.
"Any sub-state's tough because it's a combination of physical, mental and emotion," Parker said. "No matter the teams in it, regardless of whatever records are, you still have to have those three areas contributing together."
He said the Chieftains are now much better prepared to do all of those things than they were three weeks back, and they understand that they have the talent to be a good volleyball team.
"We've seen everything," Parker said. "We played the No. 7 team in the country (St. James Academy at the DeSoto Spikefest). What else are you going to see?"
As long as they don't see their former selves, the postseason could be interesting for Tonganoxie.