Buttons, presidents and history combine in collection
Presidential memorabilia part of Tonganoxie resident's hobbies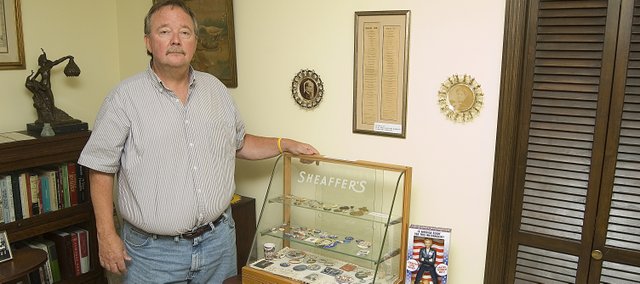 When Bill and Kathy Peak were married 14 years ago, they, as any couple, planned out their honeymoon.
The Bahamas? Nah.
Europe? No Way.
Try the former homes of deceased U.S. presidents.
In their 14 years together, the Peaks have planned vacations geared toward visiting such destinations.
Of 38 deceased presidents, the Peaks have visited 31 of them, including their gravesites.
The couple actually married in Massachusetts and visited various historic sites in New England before visiting the Andrew Jackson Hermitage in Tennessee.
"It sounds a bit morbid, but they make great vacation places," said Bill, who, like his wife, lives in Tonganoxie and formerly resided in Lawrence.
Kathy said their first road trip on their honeymoon was for three weeks.
"Not the romantic getaway," Kathy said with a laugh.
"For us, taking a road trip is like a real highlight for us. We really enjoy it."
Interested in politics and history
Bill has been interested in history and politics since high school. He credits his teacher at Paola High School, Earl Ventura, with getting him interested in history, noting his teacher "was excellent; he tried to show both sides."
A high school junior in March 1968, Bill was in Lawrence to hear Robert Kennedy, who was running for president at the time, speak at Allen Fieldhouse.
"I was lucky enough to see Bobby Kennedy at KU; a friend got me in," Bill said.
Less than three months later, Kennedy was assassinated in Los Angeles.
In 1969, he attended the funeral of former President Dwight D. Eisenhower in Abilene. The funeral had a major impact on Bill, who saw former presidents Lyndon B. Johnson and Richard Nixon. Nixon was serving his first term at the time.
More recently, Bill has seen Republican John McCain and Democrat Barack Obama on presidential campaign stops. Bill saw McCain earlier this year, and on Saturday was in Kansas City, Mo., to see Obama.
"Honestly, I see the candidates just to see the candidates because the stump speech on both sides, they're going to tell you want you want to hear," Bill said.
Pushing the right buttons
Bill has become a collector of political memorabilia. He has plenty of political buttons, as well as an 1892 election ballot and other memorabilia.
He considers himself a moderate Democrat, but his memorabilia doesn't fall in line with a straight ticket, as he has buttons of past and present Republican, Democratic and Socialist candidates.
Some buttons in his collection:
• Two buttons opposing Franklin D. Roosevelt that read: "No Third Term."
• An elaborate button shaped like a lock that reads: "White House lock, Bryan holds the key. 1908." It was a button supporting Democratic candidate William Jennings Bryan.
• A Barack Obama button: "Half Honky, All Donkey."
Bill said his favorite button is a "To Hell With Hitler" button. He's also partial to a coin that granted people admission to the United States' 1876 centennial celebration.
Overall, Bill likes collecting buttons and other campaign memorabilia because it reflects how people felt during the time of those elections, noting the importance of knowing there are always two sides to each issue.
He never knows what he'll find, either. Kathy found an "Alf Landon for President" hand fan a few days ago at a store in Lawrence. On the back, hand-written, it was dated "July 23, 1936, Oneida, KS."
Online, through auctions or garage sales or at a store, Bill is eager to find buttons and the like.
However, his love for history doesn't stop with politics.
"When I think of America, I don't just think of politicians or buttons," he said, noting history of the land dates back to Native Americans.
"There were people here way before us, so it puts us in our place … eliminating the people who were here is a scar we will never remove," he said. "We need to work on making things better for everybody.
"The best thing, to me, a country can do is admit its past, rightfully or wrongfully, and work with its own people and its neighbors. Simply said, but very hard to play out."
More than politics
Bill and Kathy's home has a room reserved for display of Bill's memorabilia, which also has a photo of them with John Edwards, whom they saw a few years ago at Ronald Reagan National Airport in Washington, D.C. There's also a photo of former Soviet Union Prime Minister Mikhail Gorbachev that Bill captured during Gorbachev's 2005 visit to Kansas.
It's no secret Bill is interested in government and politics — he also attends most Tonganoxie City Council meetings and attends many events at the Dole Institute of Politics in Lawrence — but he and his wife have become involved in genealogy studies as well.
Bill has traced his roots to 1730 thus far, while Kathy's been able to research back to 1629.
Today, though, the topic at hand is the November general election.
Voter turnout is expected to be high, but Bill isn't worried about people who don't vote.
"I think if people don't want to vote, they shouldn't, because they don't care about their politics or their country," Bill said.