Officials speak out about legal department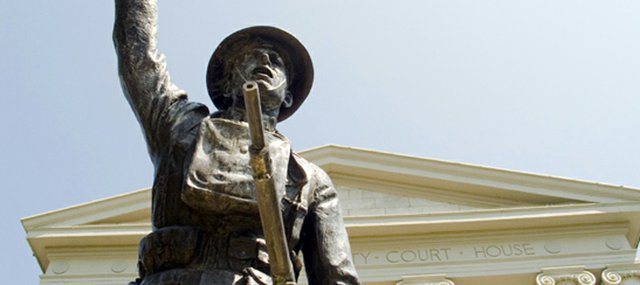 No one can do her job like her is the message former Leavenworth County Counselor-at-Large Keyta Kelly hoped to get across to commissioners Thursday morning.
Kelly is appealing the Commission's August decision to dissolve the Leavenworth County Legal Department, which included Kelly's position as well as the legal secretary, Tammy Saldivar. While the commission took no action on the issue Thursday, commissioners got an earful from Kelly and her supporters hoping to change their minds regarding their original decision.
"I'm here today asking you to rescind your decision to eliminate the counselor-at-large and legal secretary positions," Kelly said in her opening statement.
Kelly continued by stating figures that she said would show the commissioners that keeping her position would actually save the county money in the end. She cited that during the past six years, her department has brought in more than $2 million in tax revenue.
In addition to the legal duties that she described as "measurable dollars," Kelly said that she's taken on several other tasks that provide the county with "immeasurable items." From organizing the annual Christmas open house to setting up the cultural grant system that allocates yearly funds to county museums, Kelly said she's in charge on several items that don't necessarily fall under the Legal Department's duties.
She also cited her work on the steering committee that was able to bring the Kansas Sampler Festival to Leavenworth County in 2010 and 2011.
"It's very likely that we will have more than 20,000 people over that two-day weekend from outside Leavenworth County," she said. "That's money that this department is bringing to the county."
Following Kelly's comments, several people in the audience came up to put their support in Kelly's corner as well.
"I've never seen a more dedicated person," said Linda Scheer, Leavenworth County clerk. "I think Keyta's heart is in Leavenworth County."
Scheer said that the commission needed to look at the amount of responsibilities Kelly had and how well she accomplished them. With tasks such as writing grants for tax credits, gathering photos of Leavenworth County to display in the courthouse and disposing of the county's surplus property, Scheer said that Kelly does a great deal for the county and won't be easily replaced.
Also on Kelly's behalf, Janice Young, Leavenworth County treasurer, spoke to commissioners.
"Keyta has been beneficial to my office," she said. "I rely on her constantly."
Young said that Kelly's expertise regarding legal issues regarding delinquent taxes has been an asset to the treasury department.
"Due to the complexity of tax laws and statues that all the tax department in the county must follow, we feel that we need legal guidance," Young wrote in a letter that was sent to commissioners. "Keyta has devoted her time to stay on all these laws and statues and has represented the county in more ways than one. Please reconsider your decision from taking such a valuable employee/department from the county."
Following numerous other statements from about 10 people, commissioners said further discussions would occur in the next weeks before a decision is made.
Commissioner Dean Oroke, however, seemed unconvinced by what was said at the meeting.
"What I got was that we don't need to create a legal department but an office of tourism and museums," he said, commenting on the fact that a majority of the supporters spoke about Kelly's involvement with extra assignments that pertain to the county's history.
In other business Thursday, the board:
• Approved, 2-0, with J.C. Tellefson absent, to sign a grant for the Emergency Managements 2009 Cooperative Agreement. The county would receive approximately $30,000 in funding from FEMA to support Emergency Management activities.
• Heard a quarterly report from Larry Malbrough, director of the Information Systems Department. Malbrough said four copiers remain of the group of old copiers that were offered to public organizations for free after being replaced with new copiers. Commissioner Dean Oroke said he would like the copiers to be made available for people to pick up for another 10 days before being thrown into a junk pile.
• Voted 2-1, after a 'no' to 'yes' vote change by Graeber to allow for the annexation of Basehor Field of Dreams and Theno Estates under the condition that any private road that becomes public must conform to the prevailing government entity's standards and be done at the owners expense and must include any necessary right of way. The discussion of the annexation, which included Carl Slaugh, Basehor city administrator, was about who would be maintaining the road between Basehor and the island annex. Oroke was the dissenting vote.
• Voted 2–1 to have the Leavenworth County Appraisers Office use a surplus car from the Sheriff's Office to replace a 2007 Chevy Malibu that was heavily damaged in a collision Oct. 16. The other party in the collision was at fault and their insurance company paid $13,215 for the vehicle. Donna Graf, the county appraiser wanted a new vehicle to replace the destroyed vehicle citing the need for a vehicle that would require less maintenance. Graeber, who was the dissenting vote agreed.
"I can understand, but I can also understand that one of the comments I hear for the public is, 'how can the county afford to drive around in new vehicles when we are having trouble paying our taxes?'" Oroke said. Tellefson agreed.
• Unanimously voted to purchase a 2004 Peterbilt truck model 378 for $55,000. Mike Spickelmier, Leavenworth County Public Works director, said the Peterbilt is more compatible for the systems they have in place and has the lowest accumulated mileage compared with the other trucks they looked at. He said these trucks have a life span of nearly 1 million miles.