Lions edge Chieftains, 1-0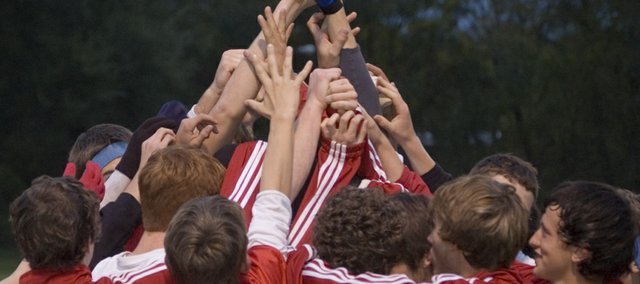 Playing its last home contest of the season, the Tonganoxie High soccer team lost a lively match with Lansing, 1-0, on Thursday night.
The Chieftains (4-11-1) came out firing as Jamison Bloomer put a shot on goal in the first minute that forced Lansing's keeper to quickly react and punch away the would-be score.
However, opportunities weren't as easy to come by the remainder of the half. Bloomer put another shot on goal with five ticks left before the break, but that shot didn't have the same power behind it.
The Chieftains' defense also kept Lansing from scoring in the first half as the two Kaw Valley League squads battled back and forth.
The Lions got a pair of legit chances at scoring in the 54th minute when one shot fired off the crossbar was rebounded by LHS and a follow-up shot was knocked away by jumping THS goalkeeper Mitch DeHoff.
Unfortunately for Tonganoxie, the Lions weren't deterred by being stymied. One minute later, Lansing's Philip Nelson scored what proved to be the game's only goal.
THS didn't give up against the Lions, and had a number of opportunities to tie the match in the final 10 minutes.
In the 73rd minute, Tyler Woolworth attempted a bicycle kick and lofted the ball high into the cool, black evening sky. Once it came back down, Marcus Titterington was waiting to head it into the upper-right corner of the goal, but the LHS keeper was there to stop him.
Less than two minutes later, Bloomer had a free kick from more than 30 yards out that the lefty drilled almost perfectly, but again a would-be score was punched away by Lansing's goalie.
In the 77th minute, Preston Putthoff passed the ball ahead into the box, where Bloomer touched it quickly with his left foot, but he was again denied.
On the ensuing corner kick, Austin Smith nearly kicked a loose ball across the goal line, but LHS cleared it out.
Chieftains fall at Atchison
Tonganoxie lost a shortened road match at Atchison on Tuesday night, 2-1.
Due to lightning in the area, the match was called with 32 minutes remaining in the second half.
Regional
The Chieftains' next match will be a postseason regional contest. The opponent, site and time will be decided at a meeting on Saturday. THS will likely play on the road on Monday or Tuesday evening.