Chieftains rally for district road win
Carlisle TDs bookend
THS

scoring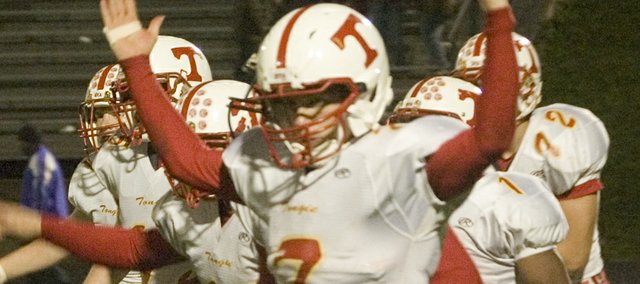 Kansas City, Kan. — Tonganoxie High sophomore Jeremy Carlisle found the end zone when the Chieftains had to have a score — twice — and THS won at Piper, 29-26, on Friday night.
The first Carlisle score came less than three minutes into the district contest. The Pirates (1-7 overall, 0-2 district) had just marched down the field in seven plays to take an early 6-0 lead when Carlisle returned a kickoff 80 yards for a touchdown, his fourth TD-return of the season.
THS (5-3, 1-1) again trailed in the fourth quarter when Carlisle capped a six-play drive with a six-yard run that put Tonganoxie up for good.
Chieftains junior running back Austen Holloway (18 carries, 107 yards) had a nine-yard touchdown run in the first quarter, and junior back Jeremie Maus had Tonganoxie's next TD, a two-yard run, in the second quarter.
Tonganoxie will play host to Bishop Ward on Thursday for its district and regular-season finale.
For more on the contest, pick up next week's edition of The Mirror.
SCORE BY QUARTERS
Tonganoxie 14 8 0 7 — 29
Piper 14 0 12 0 — 26
HOW THEY SCORED
P — Kyle Whitney 8 pass from Joel Wright (kick failed).
T — Jeremy Carlisle 80 kickoff return (Zack Robinson kick).
P — Jasper Sanders 44 run (Sanders run).
T — Austen Holloway 9 run (Robinson kick).
T — Jeremie Maus 2 run (Robinson run).
P — Russ Robinson 33 pass from Wright (conversion failed).
P — Sanders 30 run (conversion failed).
T — Carlisle 6 run (Robinson kick).