Chieftains' postseason hopes alive
Some good fortune and clutch plays keep Tonganoxie in playoff hunt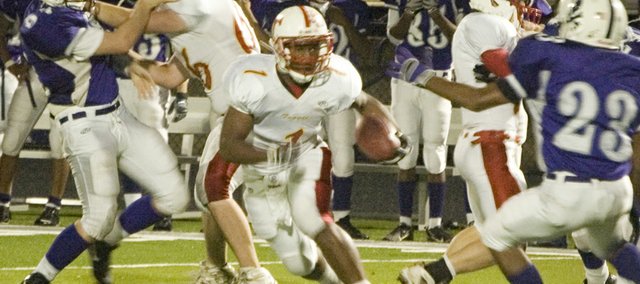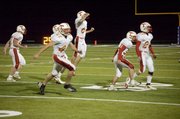 Kansas City, Kan. — The regular-season schedule says Tonganoxie High has one game left — the Chieftains' district finale Thursday against Bishop Ward — but it wouldn't have meant much if THS had lost its game this past Friday at Piper.
Fortunately for Tonganoxie, right now the season feels far from finished because sophomore Jeremy Carlisle found the end zone when the Chieftains had to have a score — twice — and THS won at Piper, 29-26.
The first Carlisle score came less than three minutes into the district contest. The Pirates (1-7 overall, 0-2 district) had just marched down the field in seven plays to take an early 6-0 lead.
The ensuing kickoff went out of bounds, but coach Mark Elston decided to make Piper re-kick.
"Good call, coach," Carlisle yelled to the sideline.
The sophomore, happy to get a chance for a return, fielded the re-kick at the 20-yard line, dropped the ball momentarily, picked it back up and hit a seam on his way to an 80-yard score, his fourth TD-return of the season.
"The kid always seems to make big plays when we need them," Elston said afterward.
Without the return, who knows what would have happened? But with it, Tonganoxie (5-3, 1-1) recovered from an early deficit to get a much-needed district win.
It wasn't all smooth sailing for THS, however, and the team earned some big breaks in the win.
In a three-point defeat, Piper failed on three separate extra-point conversions while Tonganoxie converted all four of its tries, and even scored a two-point conversion by accident.
Following a two-yard Jeremie Maus touchdown that gave THS a 20-14 lead in the second quarter, holder Jeff Sims had trouble with the snap for the extra point. Quick with his mind and his feet, though, he picked the ball up and started running toward the left pylon. With PHS defenders staring him down, he pitched the ball to senior quarterback/kicker Zack Robinson for the two-point score.
The Chieftains struggled through the third quarter, when they were outscored, 12-0, and tallied just 13 yards from scrimmage. But they regrouped nicely in the fourth quarter when they had to have a score.
Carlisle capped a six-play drive with a bruising, six-yard run that put Tonganoxie up for good with 7:38 remaining.
The deciding drive got a jump-start with a 15-yard punt return by Carlisle that put THS on the Piper 46-yard line. That's when THS completed its second pass on its third and final passing attempt of the night with an 18-yard toss down the right sideline from Robinson to junior tight end Dylan Faulkner, who Elston called "the one-armed kid" because he was playing with a completely wrapped-up right arm due to a torn tendon in his thumb.
Elston said the players deserved credit for adapting on the fly throughout the game. Jeff Sims and Tucker Hollingsworth saw significant time at free safety, playing well in the process, and junior Dylan Young replaced Jamie Everett at center after the starting senior left the game in the first half with an injury.
"I was extremely proud of our kids and everybody stepping up," Elston said. "I thought our kids just played their hearts out."
The THS defense showed determination with a huge stop in the fourth quarter. Piper started its final drive on its own 27-yard line with 2:52 remaining. The Pirates picked up three first downs and had the ball on the THS 27 with a minute to go when THS came up with four straight big stops.
Piper threw the ball on each of its final four plays. Sophomore cornerback Dylan Scates had the coverage on two of them — incompletions on second and fourth downs — and was driven by his adrenaline in the deciding moments of the victory.
"Coach told me to man up on that guy, and I just refused to let him go," Scates said. "Our entire defense, that whole drive, we just stuck together and made huge plays."
The Chieftains got a big offensive boost from junior running back Austen Holloway, who was nearly unstoppable in the first half, and scored a nine-yard touchdown run in the first quarter. Holloway led THS with 18 carries and 107 yards.
"The running game was clicking because we had good push off the ball," Holloway said. "The linemen were doing what they had to do — they were beating them up front — all I had to do was run through the holes."
The win meant a lot to THS because now the Chieftains remain in the running for a postseason berth if they win Thursday at Beatty Field versus Bishop Ward.
"It means you're playing that last game for something," Elston said. "We've got a shot at the playoffs, like we talked about all year, and it assures a winning season. You can't ask for more than that."
Carlisle said the team is feeling confident heading into its game with Ward.
"We still have a really good chance of being district champions," Carlisle said. "I think we're going to step it up again."
SCORE BY QUARTERS
THS 14 8 0 7 — 29
PHS 14 0 12 0 — 26
HOW THEY SCORED
FIRST QUARTER
(9:55) Kyle Whitney, PHS, 8 pass from Joel Wright. Jamal Jarrett kick failed. (Piper 6, Tonganoxie 0).
(9:43) Jeremy Carlisle, THS, 80 kickoff return. Zack Robinson kick. (Tonganoxie 7, Piper 6).
(7:46) Jasper Sanders, PHS, 44 run. Sanders run. (Piper 14, Tonganoxie 7).
(1:07) Austen Holloway, THS, 9 run. Robinson kick. (Tonganoxie 14, Piper 14).
SECOND QUARTER
(8:21) Jeremie Maus, THS, 2 run. Robinson run. (Tonganoxie 22, Piper 14).
THIRD QUARTER
(10:02) Russ Robinson, PHS, 33 pass from Wright. Sanders run failed. (Tonganoxie 22, Piper 20).
(1:19) Sanders, PHS, 30 run. Sanders run failed. (Piper 26, Tonganoxie 22).
FOURTH QUARTER
(7:38) Carlisle 6 run. Robinson kick. (Tonganoxie 29, Piper 26).
RUSHING
THS: Austen Holloway 18-107, Zack Robinson 17-63, Jeremy Carlisle 12-35, Jeremie Maus 4-19.
PASSING
THS: Robinson 2-3-25.
RECEIVING
THS: Dylan Faulkner 1-18, Holloway 1-7.