Regional is end of road for Tonganoxie runners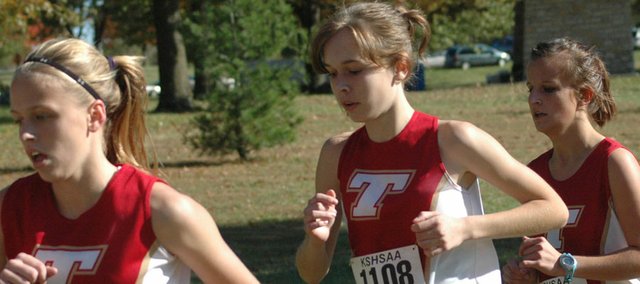 For the first time since the mid-90s, Tonganoxie High will not have a runner competing at the state cross country meet.
Although the Chieftain girls as a team — and sophomore Alex Hauk as an individual — came so close to qualifying that they thought they had, the 2008 season ended for each and every THS runner (boys and girls) at a Class 4A Regional at Wyandotte County Park on Saturday.
The top three teams at the race qualified for the state meet, which will be held Saturday at Wamego, but the THS girls finished fourth, just six points behind third-place St. James Academy of Lenexa.
Coach Phil Williams said the result caught him and his team off guard.
"I was confident after the girls' race that we had qualified, but St. James surprised us," Williams said. "We ran extremely well as a team; it was only 58 seconds from our first runner to our sixth."
Hauk was the first runner to finish the 4K for Tonganoxie, taking 18th place with a time of 17:55.
The rules of regional races indicate that all the runners from the top three teams qualify for state as well as the top five individuals from outside those qualifying teams. Twelve of the top 17 individuals came from champion Baldwin, runner-up De Soto and St. James. So when Hauk crossed the finish line, some people were telling her they thought she had qualified. But it turned out Paola's Emily Prothe, who finished in 17:50, earned the last spot available.
"I knew I was up there, and that was my goal — like everyone else's goal — was to get to state," Hauk said, adding she was bummed to learn she had missed it by five seconds.
Hauk didn't set a new personal record in the race, but the sophomore was satisfied with the outcome.
"That may not have been my best time, but that was my best race," she said.
Williams agreed, and said the girls ran their best race of the season at the regional.
"In addition to Alex, Lauren Hall (24th) and Kayla Leffert (34th) ran probably their best races," he said, noting that Sarah Williams (30th) also was a boost to the team.
Somewhat surprisingly, THS junior Andie Jeannin, who qualified for state last season, finished 26th, and was the third THS runner (behind Hauk and Hall) to finish.
But Hauk said that is just the nature of cross country.
"We all have our days where we're better than somebody else," she said.
Boys sixth at regional
Tonganoxie's boys took sixth place at the regional, which was stacked full of talented runners and featured three of the top five teams in the state — Baldwin, Paola and De Soto. Not surprisingly, those three teams all qualified for state.
Williams said Tonganoxie did well, given the circumstances.
"The boys were as focused as they have been all year. I was very proud of their effort because they knew their chances of qualifying were slim with the field that was there," Williams said. "They ran well as a group, also, with only 1:04 from our first to fifth runners. We just needed to move the group up a little."
Senior Matt Brock, who finished the 5K 23rd with a time of 18:30, didn't qualify for state, which had never before happened in his career as a Chieftain.
He said it was just the luck of the draw.
"It was probably the hardest regional around. We just got stuck in the tough one I guess," he said, adding that it was disappointing to miss out on state after making it the previous three years. "I gave it the best I could at this race; I guess it just wasn't enough."
Williams indicated that senior David Powell (34th, 19:04) and sophomore Joel Dunning (36th, 19:11) also had their best outings of the year.
Class 4A Regional at Wyandotte County Park
Girls 4K
Team Results
1. Baldwin, 30; 2. De Soto, 43; 3. St. James Academy, 114; 4. Tonganoxie, 120; 5. Paola, 120; 6. Basehor-Linwood, 137; 7. Eudora, 172; 8. Louisburg, 172.
Individual Results
1. Ellie Sheridan, DHS, 15:43; 2. Corinna Papps, BHS, 15:49; 3. Lacey Erickson, DHS, 15:57; 4. Bridgette McCormick, SJA, 16:19; 5. Calleigh Durr, BHS, 16:23.
Tonganoxie Results
18. Alex Hauk, 17:55; 24. Lauren Hall, 18:10; 26. Andie Jeannin, 18:20; 30. Sarah Williams, 18:43; 34. Kayla Leffert, 18:48; 35. Addy Phelps, 18:53; 59. Cristina Rubio, 20:51.
Boys 5K
Team Results
1. Baldwin, 29; 2. Paola, 58; 3. De Soto, 61; 4. Louisburg, 149; 5. Osawatomie, 156; 6. Tonganoxie, 169; 7. Eudora, 189; 8. Ottawa, 207; 9. St. James Academy, 240; 10. Spring Hill, 267; 11. Basehor-Linwood, 276.
Individual Results
1. Tony Weiss, BHS, 16:48; 2. Brian Wright, BHS, 17:16; 3. Colin Jokisch, DHS, 17:18; 4. Mike Gamerl, PHS, 17:23; 5. Connor Wright, BHS, 17:35.
Tonganoxie Results
23. Matt Brock, 18:30; 34. David Powell, 19:04; 36. Joel Dunning, 19:11; 41. Patrick Rachford, 19:31; 42. Dalton Lawson, 19:34; 58. Dalton Harrington, 20:16; 59. Tommy Heskett, 20:19.