Tonganoxie volleyball season ends in sub-state semifinal
Pressure-packed match with host Eudora doesn't go Chieftains' way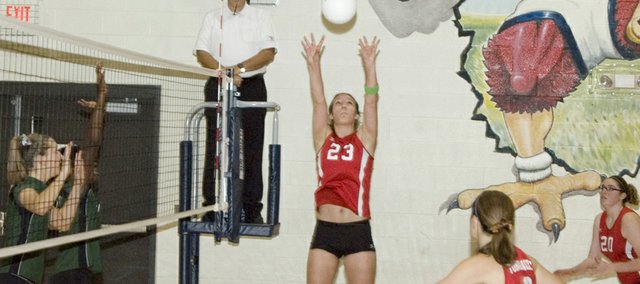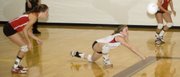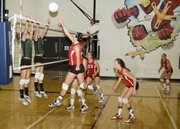 Eudora — With its season in the balance — two points away from either the end or an extension — Tonganoxie High's volleyball team found itself in the most hostile environment imaginable during its Class 4A sub-state semifinal on Saturday.
The Eudora High gymnasium was throbbing, and the Chieftains were battling the host Cardinals for a spot in the finals.
It was the third game in a best-of-three match, and in that game alone, the score was tied on 10 separate occasions. During timeouts, Eudora and Tonganoxie fans tried to drown each other out with chants of "Let's go, Cardinals" vs. "Let's go, Tongie."
The crowd was so noisy that, on several occasions, THS co-coach Brandon Parker yelled instructions to his players that were obliterated by screaming fans before they reached the Chieftains' ears.
And as a raucous EHS student section, led by a face-painted cowboy with a cut-off T-shirt and too-short Zubaz shorts, pounded the bleachers, the Cardinals ended Tonganoxie's season with two straight points, edging the Chieftains, 25-22, 17-25 and 25-23.
"Sometimes it just comes down to the way the ball bounces," Parker said. "The ball took a bad bounce for us on point 24 … but that's volleyball."
The loss was devastating for the team's players, who were still struggling to fight off tears more than 20 minutes after the match had ended.
Senior Chrissie Jeannin said the sub-state environment lends itself to escalating states of passion.
"You're so up and down all day that your emotions are all crazy," Jeannin said. "When it just ends, it just all comes out."
As a coach, Parker said it is difficult for him and co-coach Tiffany Parker to deal with those emotions when the season comes to an abrupt end, but there was something positive to take away from the teary aftermath.
"It's good because that means they made a personal investment," Parker said, "and any time it doesn't work in your way … you're not happy."
He said the silver lining of such a loss was that the players proved they cared about the team and each other, which wasn't necessarily the case earlier in the season.
Tonganoxie played inspired volleyball Saturday, even if the team didn't get the state berth it came to Eudora to win. In their two-game sweep of De Soto and the three-game heartbreaker with Eudora, the Chieftains' core rotation gave it their all. Whether it was Jeannin with one of her countless sets, Megan Puhr with a dig, Abby Eisman or Molly O'Hagan with a kill, Danielle Miller on the front line, Megan Hummelgaard diving head-first, Haley Smith's hustle or Maggie Franuik's enthusiasm, every player proved they had come to win.
Jeannin said she trusted the team would eventually be playing at that level, even if outsiders thought otherwise. When the team was 11-11, she still thought the season would turn around, which proved to be the case as THS won 15 of its final 19 matches.
"I figured it would (change) because I know people doubted us from the beginning, but I knew we would come together as a team and play better at the end," Jeannin said.
Parker said Jeannin's presence on the team — she has been setting for THS since she was a freshman — was invaluable.
"She's just kind of been that rock, just a big piece of last year's team and a big piece of this year's team in a senior capacity," he said, indicating that was a tough job because she was playing with a whole new group of teammates after the Chieftains lost eight players from last year's 31-13 Class 4A third-place squad.
Although Tonganoxie didn't make it to state this time around, Jeannin said she would look back on the season fondly.
What will she remember most?
"Probably how much we came together as a team," Jeannin said, "and just knowing that we did everything we could to get from where we started to where we are now."
Bishop Ward victorious
No. 4 seed Bishop Ward (24-16) defeated Eudora (23-17) in the finals of the tournament to win one of eight Class 4A state berths.