It's a bird, it's a plane, it's a high school assembly
Tonganoxie High students honored at super presentation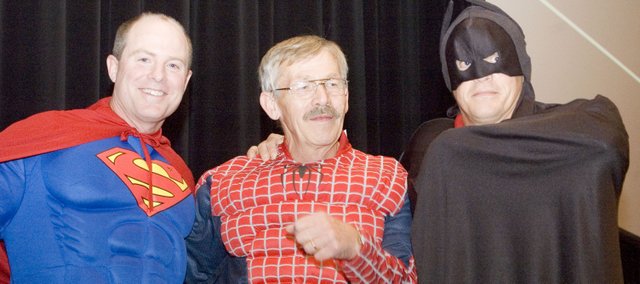 Superman, Batman and Spiderman made appearances Friday at the Tonganoxie Performing Arts Center.
At a Tonganoxie High School assembly, which had the theme of superheroes, students were recognized for their first-quarter accomplishments with the Aim For Excellence presentation and Charge Card announcements.
During the presentation of awards, Superman, also known as THS assistant principal Brent Smith, Batman, a.k.a. THS principal Jamie Carlisle and Spiderman, a.k.a. industrial arts teacher Don Schaeffer, made appearances.
Each high school teacher and administrator handed out Aim For Excellence awards.
Carlisle said he let each of the teachers decide on one student to receive the award, which consisted of a medal. The students also received Aim For Excellence pens. Criteria might have been "top performer" or who most showed improved effort, among other criteria, Carlisle said.
Students also received charge cards, which allow them to get out of class four minutes early for lunch. Cards are based on attendance, grade-point average and discipline — meaning no detentions, or in-school or out-of-school suspensions. Students who received Gold Cards are dismissed early every day; Red Card-carriers will get out early on Mondays, Wednesdays and Fridays; and White Card-carriers will have the privilege on Tuesdays and Thursdays. More incentives will be added, but student council sponsor Jessica Johnston said those still were in the works.
At the beginning of the assembly, a packed Tonganoxie Performing Arts Center watched a slideshow of Tonganoxie High School activities as Journey's "Don't Stop Believin'" blared through the sound system.
At one point during the assembly, the curtains on the TPAC stage opened, with the THS Drum Line behind. The percussionists performed with an array of standard drums and then moved on to trashcans. At the end of the performance, fellow percussionists who were holding down the cans for those doing the drumming, held up the can lids. On the inside, they displayed "T-O-N-G-I-E," which triggered a rousing ovation from their fellow students in the audience.