Red Ribbon Week has elementary school tied up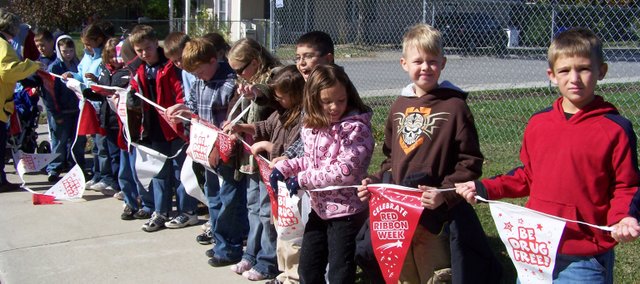 National Red Ribbon Week, which focuses on drug and alcohol awareness in the United States, is observed by many schools across the country.
Tonganoxie Elementary School is participating in the event this week.
Monday was Shade Out Drugs Day, in which students wore sunglasses, and Tuesday was Mission Accomplished: Drug-Free Life Day, when students wore camouflaged clothing.
Today has been deemed Make Footprints Worth Following Day. Students will be wearing two different shoes. On Thursday, students will be wearing their favorite team shirts for Stay In The Game-Be Drug-Free Day. And Friday will be Red Ribbon Day. Students will wear red on that day.
Red Ribbon Week was established to honor a drug enforcement agent who was killed trying to bring down a Mexican drug ring.
Connie Weltha, first-year TES counselor, said she came up with the themes for the different days by looking through Red Ribbon catalogs and adopted some of the sayings.
"The committee was Mrs. Weltha and it was approved by the principal," Weltha said with a laugh. "Basically we're just talking about it on announcements and having these dress-up days."
Weltha also is handing out pencils reminding the youths to be drug-free. She'll be giving them pledge cards to sign saying the students will be drug-free.
On Friday, Halloween-type stickers will be distributed that have anti-drug messages.
Because of several assemblies and other activities being held recently at TES, Weltha said a speaker would talk to students about drug abuse after Jan. 1. That speaker is yet to be determined.
Some teachers will be doing individualized things in their classrooms regarding Red Ribbon Week, but Weltha said it's also important that parents speak with their children about drugs and alcohol.
"We hope that parents and families will continue to talk about drug and alcohol abuse in the homes because it's a known fact that kids who get that information in the homes are the ones that avoid drug and alcohol abuse more than what we do at the school," she said.