Remembrance Walk dedication set for Thursday at high school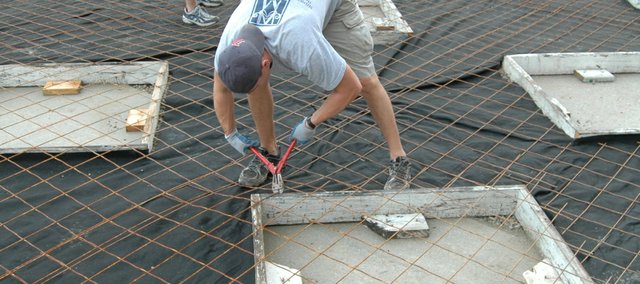 A courtyard that's been a year in the making will be dedicated at 5:30 p.m. Thursday.
The Chieftain Remembrance Walk, which honors both current residents and those who are deceased, will be officially dedicated with a ribbon cutting at the courtyard, which is north of the Tonganoxie High School east campus.
Superintendent Richard Erickson and THS principal Jamie Carlisle are scheduled to speak, and businesses that have helped with the project will be recognized.
Finishing touches on the courtyard are expected to be completed by Thursday, said Pam Jeannin, who with her daughter, Kelly Frantz, spearheaded the effort to establish the courtyard. Kelly's late husband, Army Pfc. Lucas Frantz, was killed while serving in Iraq.
Jeannin said a shipment of bricks for the courtyard have been delayed and are hoped to be in before Thursday's dedication.
The engraved bricks are inserted into the courtyard as blank bricks are interchangeable and may be removed to make room for engraved bricks, which are both memorials bricks and others honoring those who are alive.
Jeannin said the dedication will be a special time.
"It feels there are two emotions going on, elation and feeling that finally those that deserve to be recognized and honored finally have been given a chance," Jeannin said.