Tonganoxie, McLouth plan spooky events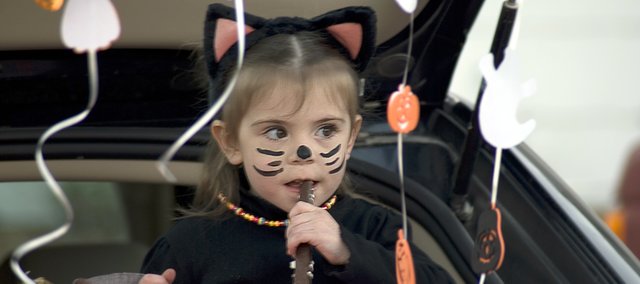 Ghosts and goblins will be parading Friday through downtown Tonganoxie.
Halloween Spooktakular will be held in Tonganoxie, an event that is replacing another annual Halloween event at the Tonganoxie Community Historic Site.
The event, which The Tonganoxie Recreation Commission, Tonganoxie Public Library, Chamber of Commerce, Tonganoxie High School, Tonganoxie Elementary School and City Hall jointly are sponsoring, will begin with safe trick-or-treating at Tonganoxie Elementary School, 304 Shawnee, and downtown.
The party also will be downtown, as businesses will be open late and will be offering games for people to play.
And after festivities begin at the elementary school, the library, Third and Bury streets, will be offering games, treats and cartoons.
At the Tonganoxie American Legion building, 1601 Commerce in the Urban Hess Business Center, treats and hot chocolate will be served.
And at Tonganoxie Christian Church, 204 Washington St., a separate event is taking place at the same time. The Fall Festival Party will start at 6 p.m. as well. A Trunk or Treat will be offered, as will carnival games, a bounce house, hotdogs and more. The event is open for youths in the sixth grade and younger. From 8 p.m. Friday to 8 a.m. Saturday, Hallopalooza Lock-in will be offered for youths in middle and high schools. Games, bounce houses, food and more will be available.
McLouth planning event
The McLouth merchants will have Hometown Hullaballo on Friday.
Hayrides, a scavenger hunt and a community dance will be offered, with the hayrides and scavenger hunt starting at 5 p.m. at the McLouth Community Center on Union Street.
From 7-10 p.m., a free community dance with a DJ will be held at the McLouth Fire Station. Refreshments, candy and prizes will be available.
For more information, call (913) 796-6300 or (913) 796-6666.