Ward pounds Tonganoxie at home
Chieftains' season ends on sour note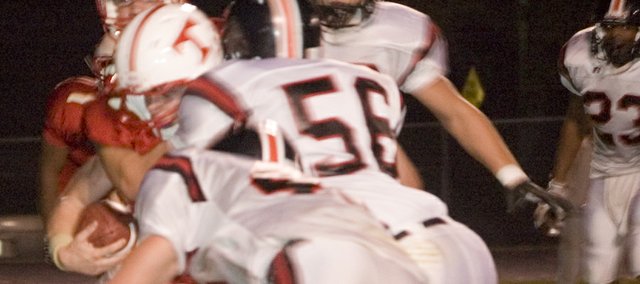 Bishop Ward came to Tonganoxie High on Thursday night with a playoff berth sealed up, but still was ready not just to play, but to dominate, as Ward walloped the Chieftains, 48-12, ending Tonganoxie's playoff hopes and season in the process.
Ward (6-3 overall, 3-0 Class 4A District 2) set the tone early, going up, 7-0, with a nine-play, 60-yard drive.
Following a three-and-out by THS (5-4, 1-2), Ward went quick-strike on the Chieftains with a 57-yard touchdown pass from Beau Stoker to Jeff Keller on its third play of the possession.
The Chieftains' struggles continued on their second possession as they turned the ball over, giving Ward the football on the THS 35-yard line. Ward took advantage, going up, 21-0, just 10:39 into the contest, and never looked back.
Tonganoxie finally scored in the fourth quarter when sophomore Shawn Marin ran 78 yards for a score. Freshman Brady Waldeier ran in another THS score with 2:24 remaining.
For more on this game, pick up the Nov. 5 edition of The Mirror.
SCORE BY QUARTERS
WARD 21 13 7 7 — 48
THS 0 0 0 12 — 12
HOW THEY SCORED
W — John Waggoner 11 pass from Beau Stoker. Stoker kick.
W — Jeff Keller 57 pass from Stoker. Stoker kick.
W — Cole Muder 1 run. Stoker kick.
W — Zach Mann 18 pass from Stoker. Stoker kick.
W — Alex Orel 7 run. Alex Mills kick failed.
W — Muder 74 run. Stoker kick.
W — Austin Kochsmeier 40 run. Stoker kick.
T — Shawn Marin 78 run. Conversion failed.
T — Brady Waldeier 11 run. Conversion failed.