Area roundup: Tuesday, Sept. 2
Chieftains soccer loses at Bonner Springs; McLouth volleyball rolls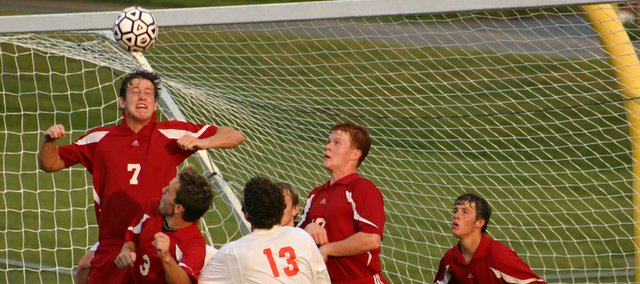 Tonganoxie boys soccer
The Tonganoxie High soccer team played its second straight road game on Tuesday night at Bonner Springs.
The Chieftains fell to the Braves, 5-0.
Now 0-2, THS has yet to score this season but is actually showing improvement. Last season, Tonganoxie was outscored, 17-0, against BSHS and Baldwin - its two opponents so far this year. Facing those two teams this year, the Chieftains have been outscored, 7-0.
The Chieftains open their home schedule on Thursday at 6 p.m. against Basehor-Linwood.
McLouth volleyball
Opening its season on the road for a triangular at Leavenworth with Immaculata and Wathena, the McLouth High volleyball team escaped unscathed.
The Bulldogs defeated Wathena in two games, 25-10 and 25-12. They also upended host Immaculata with victories of 25-23 and 25-12.
Junior Kylie Shufflebarger led MHS (2-0) with 18 kills and 12 aces. Sophomore Jeri Holwick set up her fellow Bulldogs throughout, racking up 30 assists. Senior Haley Holwick added nine service aces to the McLouth attack.
MHS is back on the road Saturday for a tournament at Jeff West that begins at 9 a.m.