Assembly teaches students respect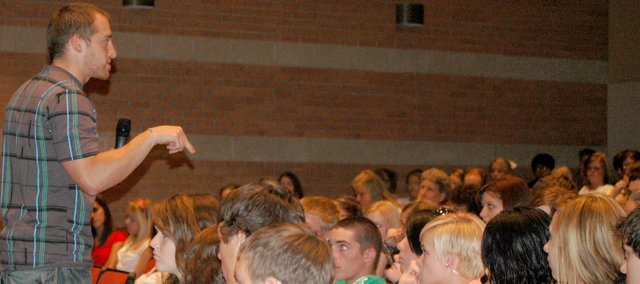 Danny Hoyt has battled tragedy.
First, he and his father were in a severe car accident when Hoyt was 15. He was unscathed, but the wreck caused his father to become paralyzed.
Fifteen months later, at age 16, he arrived at a hospital to see the parents of his girlfriend grieving because she had just been taken off life support. She also was in the hospital because of a vehicle accident - another driver ran a red light and ran into her vehicle.
He later played basketball in college at an NCAA Division III school in Minnesota. His freshman year, one of his teammates was killed in a vehicle accident.
And, during his sophomore year in college, his cousin was killed while serving in the Marines in Iraq.
All of the pain from those personal losses pushed Hoyt, now 24, to abuse alcohol and drugs.
But with help from those around him, he was able to kick those habits.
During two sessions Friday in the Tonganoxie Performing Arts Center, Hoyt and Andre Anderson of R-5 Productions, an organization from Omaha, Neb., spoke about drug abuse, but also the importance of respecting others and not labeling people because they might be different from you.
At the same time, they tried to infuse the serious tone of the assemblies with humor. They showed a montage of bloopers caught on home video, as well as stories from both Hoyt and Anderson.
"Hello, white people," joked Anderson, who is African-American, as he started speaking to the predominantly white student body at THS.
Hoyt shared several humorous stories as well. However, he also stressed the importance of their message and bringing real-life stories to the students.
"I'm not stopping doing drugs because you put up a poster," Hoyt said, referring to how students can feel when seeing a sign that touts being drug-free.
During the assemblies, Hoyt and Anderson shared intense stories of others with whom they've come in contact through their presentations.
One youth eventually told Hoyt about being sexually abused when she was 11 by friends of her brother, who were in high school at the time.
Another youth had told Hoyt that he was looked down upon by others in his school because he quit the football team.
The real story, according to Hoyt, was that the youth "quit football because his mother had a drinking problem and if he didn't get home before a certain time his stepdad would beat the crap out of her."
Hoyt and Anderson touched on other issues, such as cutting. He asked students to raise their hands if they knew of someone who does cutting. Several students raised their hands during the second session, which had sophomores and seniors. The first session was for freshmen and juniors.
In addition to several personal stories, a slide show was shown of drawings from a Web site that allows people to draw "how they feel." The vivid drawings and writings captured personal pain those doing the drawings were going through.
One note read: "I can hold my liquor longer than my mom ever held me."
Respecting others
Hoyt stressed throughout the R-5 Production assemblies that labeling people simply wasn't the way to go because we have no idea what others are going through in their lives. Making fun of people who might be unpopular merely "strokes the ego" of those dishing out the abuse. However, it can do lasting damage to those taking the abuse.
The 24-year-old, who originally is from Omaha, said it's important to walk a mile in others' shoes to understand them better, and not to judge. He had a backpack full of other people's shoes - formerly owned by those who have shared their difficult stories with him as he has traveled, giving motivational speeches.
Hayley Wheeler, a junior at THS, said Hoyt and Anderson got their message across successfully to students.
"I think it was very good about not being conventional," Wheeler said. "Don't judge people. You don't know what their life is about."
She said she has heard comments at school made about others that fall into that category.
"Don't say someone is a slut or he's gay," Wheeler said. "It's not fair to label people you don't know anything about."
By the same token, the R-5 Productions presentations brought humor into the mix, Wheeler said, and "made it more age-appropriate."
Hoyt said that was how R-5, for which Hoyt is assistant director, reaches youths.
"We're real," Hoyt said. "We keep it on their level."
About the message
R-5 stands for relevant, reconnect, rethink, rediscover and remember.
Anderson, who is 29 and just moved to Omaha from Celebration, Fla., said he had worked for seven years for Reinvent Your Identity, or RYI, which he said R-5 productions was born from.
"I've always had the desire to enrich the people around me," he said. "This is the best environment to do it - high schools."
R-5 Productions travels across the country delivering its message to students. On Friday, Hoyt and Anderson were at Lansing High School before coming to Tonganoxie.
Hoyt commented that the programs in Tonganoxie went well. At the end of the program, he selected a student to wear chains, symbolizing their problems. He then asked other students to come to the stage and remove the chains - with each link representing various events in people's pasts that hold them back. All of the students approached the stage to take part. In addition, students were asked to go up to someone they've spoke ill about or not treated correctly and apologize.
Hoyt said there were several students in tears and embracing during that portion of the first assembly.
Bryson Hewins, a sophomore at THS, said the assembly definitely had an impact on students.
"I think they were able to connect to high school classes," he said.
Fellow sophomore Michael Briones agreed.
"A lot of people could relate to the problems," he said.
The group came to Tonganoxie thanks to THS principal Jamie Carlisle. While principal at Baxter Springs High School, Carlisle saw first-hand an R-5 Productions assembly. From that experience, he brought the group to Tonganoxie. Although the program differed from when he was at BSHS, Carlisle said the message was the same.
"This group's been able to connect with kids and convey to them how important it is to do the right thing and be honest and remove labels," Carlisle said. "And get away from stereotypical behavior we engage in."
For more about R-5 Productions, log on at www.r5online.com.