Fast, furious backfield key to
THS

offense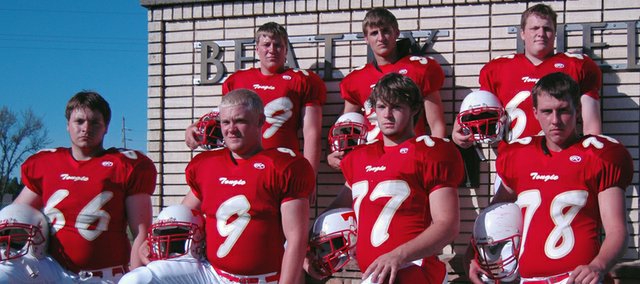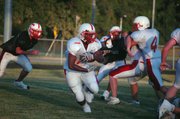 It's a good thing that none of the members of Tonganoxie High's deep backfield is claustrophobic because it's looking pretty crowded back there.
Then again, if any of the Chieftains' stable of backs were feeling enclosed by the talent around them, they could easily use their speed and power to escape, just as they will utilize those skills to evade the grasps of would-be tacklers this season.
The unique mixture of elusiveness and punch that will characterize coach Mark Elston's offense this year starts at QB, where senior Zack Robinson has currently supplanted incumbent sophomore Jeremy Carlisle after Carlisle, who took the bulk of the snaps for THS last year, missed three practices with a minor head injury. Although both players are getting reps at practices, Elston said at this juncture Robinson is the man for the job.
"Zack's recognizing defenses a little bit better right now," the coach said, "and Jeremy's going to have to play defense (at free safety) a lot, so we'll take a little bit off his hands."
Both backs move with agility and force and the guys they will be handing off to are no different. With Robinson under center, Carlisle will join juniors Austen Holloway, D.J. Lindsay and Jeremie Maus as Tonganoxie's primary ball carriers.
Elston said each back provides something different for opponents to worry about.
"Austen Holloway, it never looks like he's running really fast but you watch it on tape and he's chewing up ground," the coach said of the 185-pound back with great cutback moves, before calling the 175-pound Maus "a horse," and praising all the runners for their leg strength and balance. Although Lindsay and Carlisle aren't as thick, they are quick, "hard to stop" and deadly if they break outside and turn the corner.
Carlisle said each of the team's backs is mentally prepared to make the correct play in the open field.
"We're going full speed, but we're slowing things down in our mind, thinking through everything," he said, adding that, even with a mistake, they will be going so hard "we can still knock someone over."
Senior linebacker Boomer Carey backed up that statement, warning that when those backs come running, opposing defenders better look out because the Chieftain backfield is bringing some pop.
"I've come head-to-head with a lot of those guys and they pack a punch," Carey said. "We're definitely a lot faster than any team I can recall playing last year."
The Chieftains' linebacker leader said even with a quick defensive read, opponents will have trouble with the speed of the THS backs. His advice: "Their reflexes better be fast because (the speed is) going to hit them."
But the ground attack, a Tonganoxie staple, is not the only aspect of the offense that has Elston excited.
"We've always hung our hats on the ground game, but we've got : good receivers this year as well that really could cause some problems," the coach said.
The Chieftains' leading receiver should be junior Justin Jacobs, who made a drive-saving catch on fourth and 20 during the team's Red-White scrimmage on Friday night.
"That was awesome," Maus said of the grab. "He has great hands. We pretty much call him 'Golden Hands,' because he's got 'em. He doesn't drop very many passes."
Jacobs' height - 6-foot-1 - paired with the speed of sophomore Dylan Scates gives THS a nice pass-catching tandem.
Elston said the offense, which averaged about 40 points a game for a few seasons before 2007's 1-8 campaign, should be solid.
"Our team speed is greatly improved and our ability to move the ball is a lot better than what it was last year," he said, adding that the Chieftains' offense should be productive "as long as our offensive line is doing what it needs to do."
The coach said a few of the O-line spots are still up for grabs with the exception of center, where senior Jamie Everett has solidified himself. Seniors Clint Kissinger and Bill Seymour lead at guard and tackle, respectively, but Elston said, especially during hot September games, linemen will be rotating in and out frequently.
"It all starts with those five up front," he said. "It doesn't matter how much you've got in the backfield."
Carlisle said while the line isn't quite as large as it was last year, the more slender blockers should fare just fine.
"They're a lot quicker than they were last year," he said of the linemen. "They all move, they all talk, they all know what they're doing."
If each part of the Tonganoxie offense clicks this year, THS opponents could end up suffering from Chieftainphobia.
"We've got a banner out there that shows three conference championships (2003, '05 and '06) in the last five years. We've got the potential to get there, the physical tools," Elston said. "It's going to come down to attitude and desire."
More like this story