Homecoming activities under way
Bonfire set for tonight; traditional coronation, dance also on horizon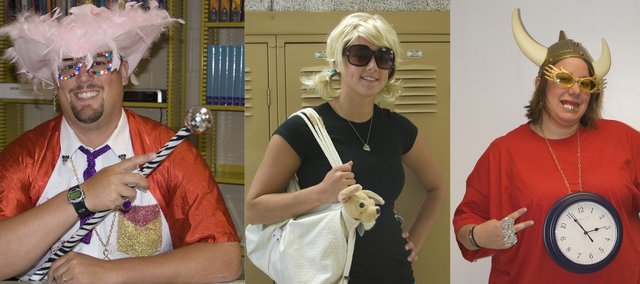 Billy Joel proclaimed in his 1989 hit that "We Didn't Start the Fire."
Tonganoxie High School homecoming organizers can't make the same claim.
When homecoming plans were being laid out for this year's weeklong activities, which started Tuesday, organizers initially opted for holding off on a bonfire.
The plan was to break out the fire during another week leading up to a different home football game.
But student council sponsor Jessica Johnston said it was determined last week to proceed with the bonfire as part of homecoming activities.
The bonfire will start at 8:30 p.m. today in the valley southwest of Beatty Field on the opposite side of the high school access road.
Of course, the bonfire won't be the only homecoming activity this week.
Spirit Week started Tuesday with Favorite Hollywood Celebrity Day. Today has been designated Space Cowboy Day and Thursday is Teacher-Student Switch Day, when students will dress up like teachers and vice versa. Spirit Week concludes Friday with the traditional Red-White Day.
A parade will be at 2 p.m. Friday, on Fourth Street in downtown Tonganoxie. The parade will stop at Fourth and Bury streets for performances and then introductions of various teams.
And, for the first time, a group of elementary school students will be marching in the parade to show they met academic excellence.
Homecoming coronation will be held before the 7 p.m. Tonganoxie High School football game against the Prairie View Buffaloes at Beatty Field. It will be the season opener for both teams.
King candidates this year are Matt Brock, Jamison Bloomer, Boomer Carey, Ben Field, Travis Freeman, Austin Smith and Jace Waters. Queen candidates are Jenna Bloomer, Ashley Dent, Chrissie Jeannin, Megan Puhr, Leah McCaffrey, Lauren Himpel and Colby Bennett.
A homecoming dance, with the theme of "Ancient Egypt," will be Saturday at the commons area in Tonganoxie High School's west campus building.
A photo of this year's candidates may be found on page 8A of today's edition of The Mirror.