'

King Henry

VIII

,' 'Anne Boleyn' take to event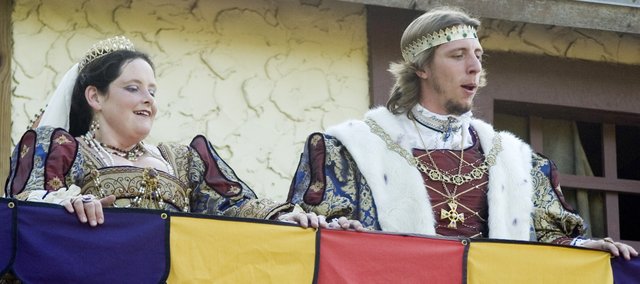 Hail ye, hail ye, the Kansas City Renaissance Festival opened its 16th century village doors Labor Day weekend with games, crafts and activities to bring the town of Canterbury alive for all to enjoy.
This year's festival, which has the theme of the play "A Midsummer Night's Dream" by William Shakespeare, is filled with magical creatures such as fairies and star-crossed lovers that roam the festival grounds looking to entertain. But this year's festival also features a royal pair who enchant patrons with their extravagant ways.
"I'm kind of the life of the party," said Portia Bowers, the actress who brings to life Queen Anne Boleyn. "If there's fun to be had, I'm usually there enjoying it and making sure everybody else enjoys it."
Bowers will find herself constantly smiling and laughing during this season's Renaissance Festival, which runs from Labor Day weekend to Oct. 13 at the fairgrounds at 628 N. 126th St., Bonner Springs. While she wears that almost constant smile, she entertains the crowds that are sure to be swept away between the romance that will play out between her and her soon-to-be husband, a young Henry VIII.
"He's very excited. This is marriage of choice," said John Cleary, the actor who plays Henry VIII. "His first marriage was in order to unify a country after his brother died. He's head over heels in love with Anne and fascinated with her youthfulness."
The two will participate in a marriage ceremony at 5:30 p.m. every day of the festival. All patrons are invited to the front gate to witness the spectacle of a marriage ceremony that is no short of a "huge, royal affair," Bowers said.
"It is a very big event," Bowers said. "It was the most quintessential moment in Anne's life and we are going to do the same thing. There are extra platforms, a banquet table for the wedding reception and flowers. It's huge. Henry and I wear large royal state capes that are 7 feet long. It's a royal wedding and it's just going to be outstanding."
"It's a short and sweet ceremony," Cleary added. "It's all the fantastic fanfare you can expect from a royal wedding."
In addition to her royal wedding, Bowers will play host to a Queen's tea every afternoon. There will also be mounted joust matches, the Feaste of Fooles and a murder mystery feast and a wine tasting.
Bowers also noted that the cast of characters this year is something not to miss. She's been performing with the Renaissance Festival for eight years and she said that this is the most cohesive cast she's ever seen.
"I think what we have that's different is the full immersion," she said. "When you walk in there you can forget about everything that happens outside of the walls. You're in a 16th century village. Our cast of characters look and talk like these people. It's a time for you to forget about everything and come be a character yourself."
For Cleary, this is his first year as a Renaissance Festival performer, but as a patron of many years, he said he was looking forward to turning the tables and entertaining others for once. Throughout the season, Cleary said he was looking forward to the interaction he'll have between himself, other performers and the patrons.
Cleary said the Renaissance Festival is much like any other summer festival that can be found in the area. There is food, shops and entertainment, but he said there was one special aspect of his particular festival that sets it apart from all the others.
"We really put people in a different world," he said. "When you go out there as a patron, interact; dive in head first. We're not putting on a stage show every moment. We're out here to interact as if you belonged to the village of Canterbury. Everywhere you turn, if you give these performers a chance, they'll wow you."