Know your neighbor: Easter dives in water and in sky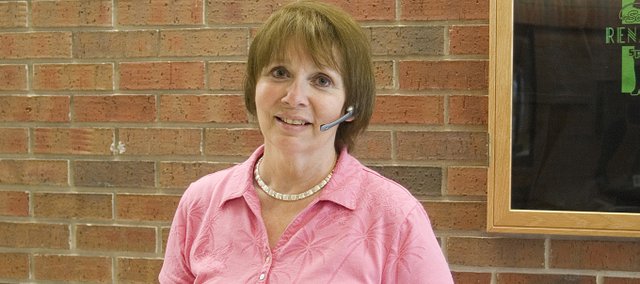 Barbara Easter doesn't consider herself an adrenaline junkie per se, but the attendance secretary at Tonganoxie High School does like a little excitement in her life.
"I live on the edge of the envelope," Easter said. "I'm quiet at school because I have an image to maintain."
When she's not sitting behind her desk answering phones at the west campus, Easter finds herself waiting for the next time she can go bow hunting or even jump out of a plane.
A few years ago, Easter, along with her friend and then-daughter-in-law, went on a tandem skydiving excursion.
"It was one of the best times in my life. I can't describe how exiting it was. It still makes me feel:" Easter said with a shudder, unable to put into words how how amazing the experience was.
She said it was surprising to her how quiet it got after her instructor pulled the ripcord and they began to float down to earth safely.
But her thrill seeking doesn't stop in the sky. For more than 15 years, Easter has also gone scuba diving in nearby lakes and other bodies of water.
Her favorite place so far has been Beaver Lake in Arkansas.
"It's just nice and pleasant there," she said. "The people there are really nice."
Easter said that after 30 years of marriage, her husband Larry Easter has accepted who she is even though "he thinks I've lost my mind."
About the only thing missing in her thrill-seeking resume is bungee jumping.
"But you never know, I might do it next week," she said.
Getting to know your neighbor
Family: Larry Easter, husband. Ed Cummings, son, Keri Hiatt, daughter.
Occupation: Attendance secretary at Tonganoxie High School
What clubs or organizations do you belong to?
"I just have time for work and family and friends."
What is the best advice you have ever received?
"A friendly smile goes a long way."
What might surprise people about you?
"When I tell them about my life, what I do and what I have done."
What do you do for fun?
"I want to spend a lot of time with my family. My grandkids are important and my family is important."
What do you like most about Tonganoxie?
"The people. It's a good community."
How long have you lived in Tonganoxie?
"I've lived here 31 years."
What brought you here?
"Our horses. We didn't want to get rid of them so we looked for property and came this direction, west from Kansas City."