Layoff at county puts state festival in limbo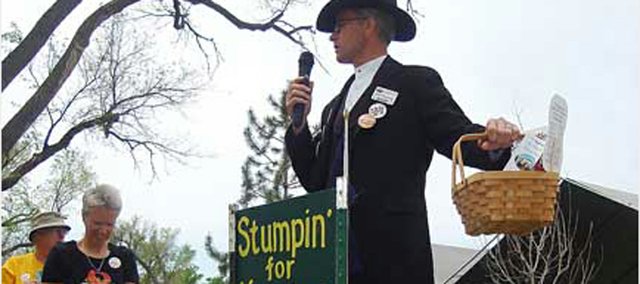 As the dust settles after a shakeup of Leavenworth County employees, the future of the county holding the Kansas Sampler Festival remains cloudy.
On Aug. 19, a bid to have the Ray Miller Park in Leavenworth be the site for the 2010 and 2011 Kansas Sampler Festival was retracted after the county eliminated the full-time position of the person chosen to direct the event.
Keyta Kelly, Leavenworth County counselor-at-large, was chosen to be the festival's director. The position was budgeted to pay $17,500 for each year the festival was held.
The same day the county received the bid, Kelly's position was eliminated, effective Jan. 2, 2009. Because of budget constraints, the county reduced the counselor-at-large position to a 1,000-hour, part-time job and would not include benefits.
Marci Penner, director of the Kansas Sampler Foundation, which chooses the host cities, said the foundation was awaiting word from the county before it started looking for another host city.
"We certainly want to give Leavenworth County every chance to figure it out at their end," Penner said. "I'm anticipating it will only take a couple of weeks to find a solution."
On Friday, the steering committee in charge of bringing the event to the county met to discuss different options on how to remain the host city.
Kelly said the committee came up with three different options, but did not want to reveal any details until formal letters discussing the options could be written to the foundation and the county commissioners.
Leavenworth County Commissioner J.C. Tellefson said the commissioners did not intend to interrupt plans for the festival when they eliminated Kelly's position, but they were trying to be a "good steward to the taxpayers' money," by finding ways to keep the tax mills low.
Tellefson was eager to find a way to keep Leavenworth in line for the upcoming annual events because the 2011 festival falls on the state's sesquicentennial year and is expected to bring in a record number of guests.
"Twenty-five thousand people in the Leavenworth and Lansing city area is a huge deal," Tellefson said. "But the only way that will happen is if the Kansas Sampler group is comfortable with the organization here."
As of Friday, Kelly had not decided whether she would take either the part-time county at-large position or remain the director for the festival.
"I just want to keep my options open," she said.
Seventeen other county positions were either eliminated or rearranged because of budget restraints.