Let it rain: Soccer team anticipates downpour after drought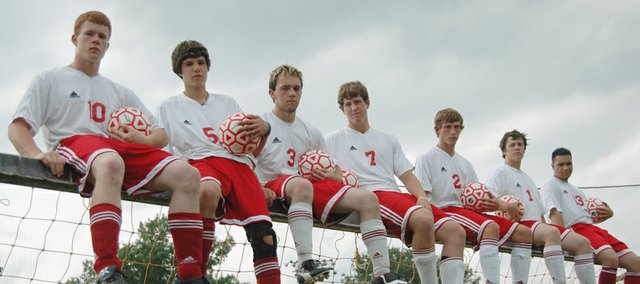 Austin Smith is no meteorologist, but if the Tonganoxie High soccer senior's forecast for this season is correct, Chieftain fans better get their umbrellas out.
At a preseason practice, the THS coaches and players were discussing the recent drought the boys soccer program had suffered through - THS went 2-15 last year.
Smith's response: "It's time for it to rain."
The team took that statement and turned "Let it rain" into its motto for this season, during which the Chieftains hope for more downpours than droughts so they can, as Smith said, "bring back some Tongie pride in soccer."
Coach Ken Lott is both optimistic and realistic about this season - he knows the team isn't going to go undefeated - but expects to finish at .500 or better because the team has much more depth than in 2007.
"It's different this year because we do have a deep bench. Right now we're just trying to figure out which 11 are going to work the best on the field," Lott said, adding that it is a nice problem to have because at times last season THS was putting a patchwork lineup on the pitch.
Senior captain Jamison Bloomer said depth should be key to the team's improvement.
"Last year, we'd have maybe three, four subs," he said. "We'd be tired before the first half (was over)."
Barring injuries, that shouldn't happen again this season. As well as Bloomer, the Chieftain attack features physical senior sweeper Steve Davis, talented senior Bruce Oregel, junior leaders Tyler McEachron and Kenny Schultz, junior goalkeeper Mitch DeHoff, athletic junior Bret Koch and the tall and agile duo of Smith and junior Keaton Schaffer.
Lott said all of those players should make a positive impact this year and cited Oregel as one of the squad's best skill players, noting the team's confidence in his ability - "If he gets an opportunity to score," Lott said, "he's more than likely going to score."
Things should go much smoother this year for Tonganoxie, Smith opined, with such a large group of well-rounded players.
"We have a bigger core of better players that are more confident on the field," he said, pointing out the importance of the team's diverse attack. "That helps out because we can spread it out and we're not all concentrated on one point of the field."
What's more, Bloomer said the team looks vastly improved in nearly every category imaginable.
"Everything from passing to shooting to dribbling to juggling to attitudes," he said of the biggest differences between last year's team and this one. "We've made a 180-degree turn."
Smith agreed, saying the team's offensive chemistry is up.
"We've got a little more passing," he said, "and we've definitely got a lot better at shooting."
Now the Chieftains have to parlay their improved skills, attitudes and depth into some wins on the soccer pitch to officially escape the drought of '07.
"We definitely want to have a winning season," Smith said. "No doubt.
"We just want to be scoring and if we put it all out there on the line :"
Expect a rain storm.