Tonganoxie boys soccer team loses season opener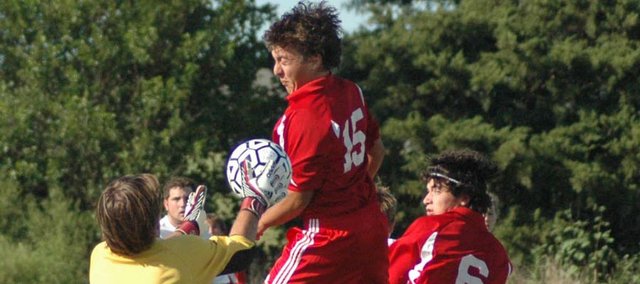 The Tonganoxie High fall sports season officially started on Friday as the Chieftains boys soccer team opened its 2008 campaign on the road at Baldwin.
Playing against a team that dominated Tonganoxie last year (when THS went 2-15), Tonganoxie had a much better showing this time around, but still fell to the Bulldogs, 2-0.
THS coach Ken Lott said the team was unlucky on the road.
"We had lots of opportunities to score," he said, "we just couldn't get it in the goal."
The Chieftains' first chance came in the first half when a Baldwin defender committed a hand ball in the box. Senior Bruce Oregel took the penalty kick for the Chieftains but missed it wide left.
THS continued to attack the Baldwin defense throughout the contest, getting numerous shots on goal, but none of them went in.
Scoreless at half, the first goal of the match came in the 48th minute from Baldwin's Levi Moore.
Lott said Tonganoxie thought the goal should have been disallowed because it appeared, to the Chieftains at least, that one of the Bulldogs had again committed a hand ball before the ball ricocheted off to Moore for the goal, but the referee didn't see it that way.
The game-sealing goal for BHS came with just three minutes left as the Bulldogs' Shawn Berndt took the ball at midfield and went on the attack. THS goalkeeper Mitch DeHoff made an aggressive move to defend the goal, coming out to force Berndt into a tough shot, which he took and made.
Despite the setback, THS (0-1) should be happy with its effort, Lott said, because it was a much better showing than last year when the Chieftains lost, 7-0, to Baldwin. The coach said BHS (1-0) was fortunate to score when it did against a Tonganoxie defense that played solid throughout the match.
"That was their only two really good chances," Lott said of the Bulldogs' pair of goals, "and they capitalized on them."
The coach was pleased with his team's play in the loss.
"They put in a combination of passes and they were moving it from the backfield up toward the forward line and moving it from side to side," he explained. "We had a lot more connection on passes and movement that we've had in the last three years between all the players - whether they subbed or started the game. It was very positive."
That left the Chieftains feeling that they have come a long way from last season.
"We felt like we should've won," Lott said, "and we were in reach of (getting a victory)."
- Baldwin City Signal sports reporter Jimmy Gillispie contributed to this story.