Chieftains beat Buffalos, 14-7
75-yard Carlisle return keys homecoming victory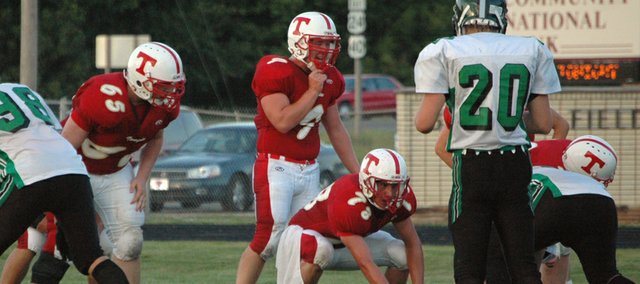 At halftime of an exceptionally rare season-opener that doubled as homecoming, Tonganoxie High football coach Mark Elston's Chieftains were in the middle of a scoreless fight with visiting Prairie View.
Sure, a few punches had landed, but the Buffalos hadn't exactly staggered.
That's when Elston implored his players to land a figurative punch and take the momentum they would need to defend their Beatty Field turf.
Sophomore Jeremy Carlisle took the speech to heart and took the opening kickoff of the third quarter 75 yards for a touchdown, leading the Chieftains to a 14-7defeat of PVHS.
"At halftime I was listening to coach, he was talking about how we need to go out and knock them in the jaw," Carlisle recalled.
Twelve seconds and three-quarters of the football field later, THS had its first score of the season thanks to Carlisle's jaw-knocker. But the speedy back credited junior Richie Ridihalgh for getting the hit that made the return possible.
"I hit the wedge, I was looking right and then - bang - Richie knocks this guy that was in front of me out," Carlisle said. "I just cut it, hit the gap and I was gone all because of him."
The Buffalos did get up from the mat, though. They tied the game, 7-7, after Peter Dokos caught a 22-yard touchdown pass from Nathan Sommers.
Elston said he was eager to see how his team would respond to the defensive mistake - a rarity for THS on Friday.
"With a young team you're always concerned about it because they had a big play and we were out of position," the coach said. "These guys fought back and decided that they were going to do it."
The Chieftains (1-0) were rarely able to comeback like that last season when they went 1-8, but they got a critical season-opening win thanks to a ground game that racked up 220 yards on 47 carries.
Senior quarterback Zack Robinson led the charge with 16 carries for 83 yards, but junior Austen Holloway was responsible for the game-winning TD with 8:03 remaining when he found a huge hole created by the line and busted 10 yards into the end zone, which pleased his coach.
"Austen, once he gets the wheels going, he's tough to bring down," Elston said of Holloway, who ran the ball 10 times for 58 yards. "They created a huge seem for him."
Junior fullback Jeremie Maus and Carlisle joined the ground brigade for the Chieftains. Maus carried seven times for 30 yards and Carlisle totaled 49 yards on 14 rushes.
"We intended to mix it up a lot because we're trying to use some of our speed," Elston said.
The defense was just as critical in a low-scoring game. Senior linebacker Boomer Carey led the team with a handful of tackles for loss, Carlisle had an interception with 1:20 remaining in the first half and Robinson recovered a PVHS fumble near the midpoint of the fourth quarter.
Said Carey: "Our defense is just as confident as our offense."
Tonganoxie will travel on Friday for a 7 p.m. matchup with Osawatomie .
PVHS 0 0 7 0 - 7
THS 0 0 7 7 - 14
Scoring
3Q
THS - (11:48) Jeremy Carlisle, 75, kick return; kick by Zack Robinson good
PVHS - (2:05) Peter Dokos 22 pass from Nathan Sommers; kick by Sommers good
4Q
THS - (8:03) Austen Holloway 10 run; kick by Robinson good
THS rushing - Zack Robinson, 16-83; Jeremy Carlisle, 14-49; Austen Holloway, 10-58; Jeremie Maus, 7-30
THS passing - Robinson, 2-7, 9, interception; Carlisle, 0-1, interception
THS receiving - Maus, 1-6; D.J. Lindsay, 1-3