Chieftains tie Bobcats in home opener
THS

0-2-1 after 100-minute match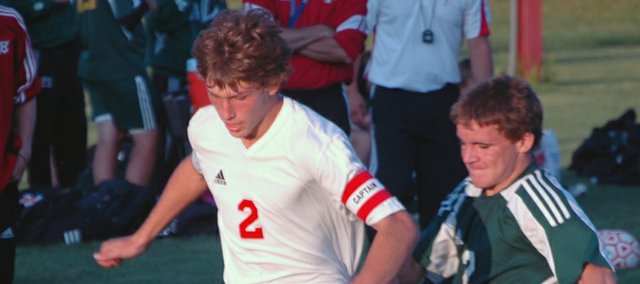 In its home opener on Thursday evening, the Tonganoxie High soccer team continued to show improvement. Although the Chieftains didn't get their first win of the season, they battled Basehor-Linwood to a 2-2 tie and played inspired soccer in spurts.
Even in a scoreless first half, THS (0-2-1) showed some grit at Chieftain Park.
The Tonganoxie defense was led by the goalkeeping of Mitch DeHoff, who was always in the right place, extending and punching away Bobcat shot attempts. The junior's best save of the night came on a free kick in the first half when DeHoff dove to his right to thwart a would-be goal.
With the help of the defenders in front of him, such as junior Kenny Schultz and senior Austin Smith, who both made impressive tackles against the BLHS attack, the Chieftains were more than happy to shut out an opponent for the half after giving up seven goals in their first two games of the season.
In fact, the Chieftains had themselves been shut out through the first 200 minutes of the season. But that streak ended at 203 minutes when, in the 43rd minute of Thursday's game, senior Jamison Bloomer perfectly placed a corner kick that Smith headed into the back of the net, giving THS its first lead of the year, 1-0.
Less than nine minutes later, BLHS countered with a goal of its own when Tanner Bowers tied the contest on a penalty kick following a THS hand ball.
The match remained tied until the 66th minute when Beau Himpel of BLHS got a chance to go one-on-one against DeHoff. As Himpel streaked toward the goal, Smith came in to help out DeHoff, jumping in front of Himpel just as he fired. The shot went over Smith's head, though, and into the net, giving the Bobcats their first lead of the contest.
THS looked deflated for a few minutes before finding the resolve to come back and tie the game. And they did it just in time. In the 78th minute, senior Bruce Oregel, who had just re-entered the match via substitution, got a chance to show off his skills. Oregel bent a shot from right to left that tied the game with 2:24 left on the game clock, eventually sending the match to overtime.
The rivals played two 10-minute periods, but neither found the golden goal that would have meant victory and the game ended in a tie.
The Chieftains were originally slated to play host to Atchison on Monday at 6 p.m., but that game has been postponed due to wet field conditions. A tentative makeup date has been set for Oct. 9.