THS

volleyball wins home opener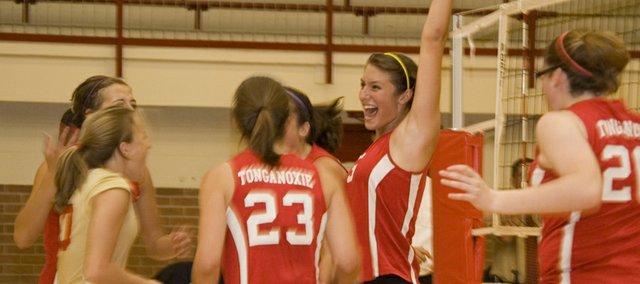 It took all five games of Tonganoxie High's home opener for the Chieftains to send Holton packing with a loss, but the volleyball team started its 2008 season with a victory, defeating the Wildcats, 14-25, 25-15, 25-16, 23-25 and 15-7.
After dropping the first game to Holton by a wide margin, the Chieftains came out much more determined in the second game, scoring the first 11 points to take control.
The second win wasn't as easy. The evenly-matched teams were tied at 8 before THS scored 17 of the next 25 points.
Just when it looked like the Chieftains were poised to end the match, the Wildcats responded in the fourth game. The visitors led, 14-9, and the game was tied on seven different occasions before Holton squeaked by with a two-point win.
In the fifth and decisive game, the teams were tied at 4 before THS took control. A service ace by Megan Puhr gave the Chieftains a 6-4 lead. After that, Abby Eisman and Molly O'Hagan were consistently spiking home kills for points.
Perhaps the most critical point came after Megan Hummelgaard dove out of bounds to save the ball. Danielle Miller played the save toward the net and O'Hagan spiked it into the THS court to give Tonganoxie an 11-5 lead.
THS (1-0) travels to Baldwin on Wednesday for another best of five dual that starts at 7 p.m.