Air Force band set to play Saturday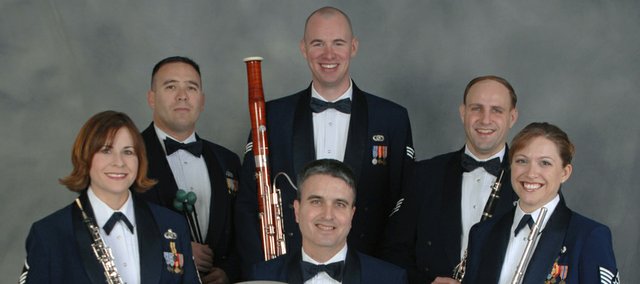 For one night only, the sounds of an acclaimed United States Air Force band will be filling the Tonganoxie Performing Arts Center.
The USAF Heartland of America Band, which is based out of Omaha, Neb., will be bringing its Winds of Freedom band to TPAC at 7 p.m. Saturday.
The performing arts center is on the Tonganoxie High School campus.
Staff Sgt. Jennifer Griffith, who is a member of the band, said she's excited to perform in Tonganoxie.
"When I booked the tour I was looking for places we had never been to or not been to in quite a while," she said. "To my knowledge, we have never performed in Tonganoxie."
The concert, which The Mirror newspaper is sponsoring, is free and open to the public. The band, which performs throughout the Midwest and other states, plays at venues large and small.
Winds of Freedom is a woodwind quintet composed of the band members from larger ensembles.
According Griffith, who is a member of the band, they will be playing a wide array of music.
"We're doing a little bit of everything," she said. "There will be a world premiere of a piece written specifically for our quintet, some selections from Harry Potter, some Raymond Scott music, some standard quintet music and, of course, some patriotic selections."
Although admission is free and no tickets are required for admission, people wanting to attend should arrive early to secure desired seats. Griffith said it's been her experience that audiences start filtering into venues 30 to 45 minutes before performances started.
The band performs throughout an eight-state region - Kansas, Nebraska, Iowa, Minnesota, Wyoming, Montana, North Dakota and South Dakota. The group also deploys in support of Iraqi Freedom and Enduring Freedom.
The band performed in Lawrence on Monday, Kansas City, Mo., on Tuesday and also have stops in Topeka and Edgerton planned.
The Heartland of America Band has received four Air Force Outstanding Unit Awards and five Air Force Organizational Excellence Awards. In addition, it boasts four Colonel George S. Howard Citations of Musical Excellence from the John Philip Sousa Foundation. The band has the singular distinction of being the only Air Force musical unit deployed throughout the entire area of responsibility in support of troop morale during Operation Desert Shield. In 1995, it was named a "World War II Commemorative Community" for its comprehensive support of activities recognizing the 50th Anniversary of victory in World War II. The Heartland of America Band also was honored to perform a major multimedia tribute celebrating the 150th Anniversary of Omaha.