Chieftains knock Buffalos in jaw
Carlisle's 75-yard
TD

to open second half leads

THS

to homecoming 'W'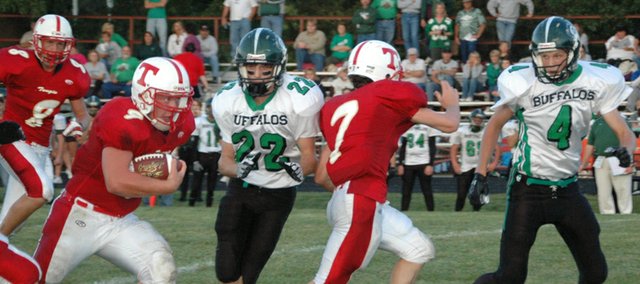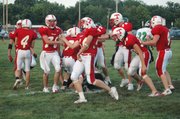 All it took was one hit.
At halftime of an exceptionally rare season-opener that doubled as homecoming, Tonganoxie High football coach Mark Elston's Chieftains were in the middle of a scoreless fight with visiting Prairie View.
Sure, a few blows had landed, but the Buffalos hadn't exactly staggered.
So Elston implored his players to land a figurative punch and take the momentum they would need to defend their Beatty Field turf.
Sophomore Jeremy Carlisle took the speech to heart and took the opening kickoff of the third quarter 75 yards for a touchdown, leading the Chieftains to a 14-7 defeat of PVHS.
"At halftime I was listening to coach, he was talking about how we need to go out and knock them in the jaw," Carlisle recalled.
Twelve seconds and three-quarters of the football field later, THS had its first score of the season thanks to Carlisle's jaw-knocker. But the speedy back credited junior Richie Ridihalgh for getting the hit that made the return possible.
"I hit the wedge, I was looking right and then - bang - Richie knocks this guy that was in front of me out," Carlisle said. "I just cut it, hit the gap and I was gone all because of him."
The big play got everyone on the sideline, including the coach, excited.
"That's why you never kick it to the fastest guy on the field," Elston yelled to anyone who would listen. "You never kick it to the guy that can make the play."
The Buffalos did get up from the mat, though. They tied the game, 7-7, after Peter Dokos caught a 22-yard touchdown pass from Nathan Sommers.
Elston said he was eager to see how his team would respond to the defensive mistake - a rarity for THS on Friday.
"With a young team you're always concerned about it because they had a big play and we were out of position," the coach said. "These guys fought back and decided that they were going to do it."
The Chieftains (1-0) were rarely able to comeback in such fashion last season when they went 1-8, but they got a critical season-opening win thanks to a ground game that racked up 251 yards on 49 carries.
Senior quarterback Zack Robinson led the charge with 15 carries for 85 yards - "It was the linemen, the linemen did everything," he said.
The line also was responsible for opening up a gaping hole for junior Austen Holloway with 8:03 remaining. He promptly ran in the game-winning TD from 10 yards out, which pleased his coach.
"Austen, once he gets the wheels going, he's tough to bring down," Elston said of Holloway, who ran the ball 11 times for 55 yards. "They created a huge seam for him."
Junior fullback Jeremie Maus and Carlisle joined the ground brigade for the Chieftains. Maus carried eight times for 41 yards and Carlisle totaled 53 yards on 12 rushes.
"We intended to mix it up a lot because we're trying to use some of our speed," Elston said.
The defense, which was swarming at times, was just as critical in a low-scoring game.
"We had real good play out of our defensive line that allowed (linebacker) Boomer (Carey) to get in there," Elston said.
Senior Carey led the team with 11 tackles, a handful of which came at the line of scrimmage or behind it.
Said Carey: "Our defense is just as confident as our offense."
Moreover, the linebacker said, the D and O need to help out each other.
"It's like a push-and-pull thing with us and the offense," he said. "Our job is to get the offense the ball so they can score and we can be up."
Carlisle had an interception with 1:20 remaining in the first half, Dylan Scates recovered a fumbled PVHS kickoff return early in the second half and Robinson recovered a PVHS fumble near the midpoint of the fourth quarter.
Robinson started at inside linebacker (instead of strong safety) for THS on Friday because Maus was playing hurt. His coach praised Robinson for his performance on both sides of the ball.
"He played a whale of a game," Elston said, "as much as he did on offense."
The coach was just as happy with the rest of the THS defense.
"We're not real big, so that's how we've got to play - just all out like a bunch of junkyard dogs," Elston said.
After packing some bite and a punch on Friday, matching last season's win total in the process, Carlisle said the Chieftains are confident this year will be better.
"Everyone knows that last year we didn't have that successful of a season," he said. "This year a lot of people are doubting us, but we knew inside that we were going to be good and we had a chance to be really good if we did everything right."
Tonganoxie will hit the road on Friday for a 7 p.m. matchup with Osawatomie.
SCORE BY QUARTERS
PVHS 0 0 7 0 - 7
THS 0 0 7 7 - 14
RUSHING
THS: Zack Robinson 15-85, Jeremy Carlisle 12-53, Austen Holloway 11-55, Jeremie Maus 8-41, D.J. Lindsay 2-16, Dylan Scates, 1-1.
PASSING
THS: Robinson 2-7-10, interception; Carlisle 0-1-0, interception.
RECEIVING
THS: Maus 1-6, Lindsay 1-4.
HOW THEY SCORED
Third Quarter
11:48 - Jeremy Carlisle, THS, 75 kick return. Zack Robinson kick. (Tonganoxie 7, Prairie View 0).
2:05 - Peter Dokos, PVHS, 22 pass from Nathan Sommers. Sommers kick. (Tonganoxie 7, Prairie View 7).
Fourth Quarter
8:03 - Austen Holloway, THS, 10 run. Robinson kick. (Tonganoxie 14, Prairie View 7).