Jeannin finishes 1st in old school dual
Brock takes 2nd as Lions narrowly defeat
THS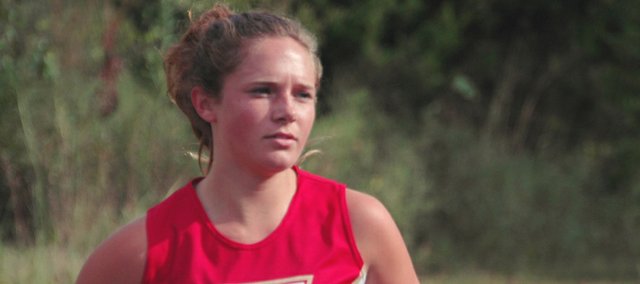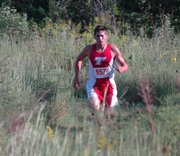 The Tonganoxie High cross country team kicked it old school on Thursday for its season-opening meet.
While in recent years the Chieftains have played host to a quadrangular to begin the year, this time around it was just Tonganoxie and Lansing for an old-fashioned dual, which is the way things used to be, coach Phil Williams said.
According to Williams, Lansing and Tonganoxie have opened the cross country season against each other for more than 40 years. The season's traditional first run was a dual for the first three decades. It wasn't until more recently that Basehor-Linwood and, later, Kansas City Christian, joined the fun, making it a quadrangular.
"This year we are really just getting back to one of the oldest traditions in high school athletics," Williams said.
Unfortunately for the Chieftains, the tradition didn't help them on the Tonganoxie cross country course, where the THS girls and boys fell short of team victories.
But there were a few bright spots. Chieftains junior Andie Jeannin won the girls 4-kilometer race with a time of 16:30. And even though the boys were bested by Lansing by a single point, THS senior Matt Brock finished second in the 5K run with a time of 17:44.
Jeannin said it was a great way to start the season.
"I feel so much better because I don't have a stupid cast," she said, referring to the slightly weighted nuisance that was on her right arm all of last season.
Having the cast gone helped her finish 42 seconds ahead of the second-place runner, Lansing junior Melanie Pilkington, Jeannin said, but the absence of Christy Weller, who graduated from THS in the spring, might have hurt her.
"Since Christy's gone, I have to find different ways to push myself, and I'm just trying to figure that out right now because I'm used to having her in front of me," Jeannin explained.
As she makes that adjustment, Jeannin is finding other ways to push herself.
"I just try to keep up my pace the whole time," she said. "I won't let myself slow down."
Four Lansing runners finished behind Jeannin in the top five. THS senior Addy Phelps and sophomore Alex Hauk finished sixth and seventh, respectively.
Tonganoxie's top boy, Brock, who finished 45 seconds behind race winner Brandon Craig of Lansing, missed the team's Red-White race the previous Friday and felt it on the course.
"This is the first time I actually tried the 5K (this season). It was kind of hard getting used to that. I don't know, I'm out of shape," he said with a laugh.
Still, Brock felt positive about the race because he posted a better time than he did in last year's season-opener. Plus, the four Chieftain runners behind him - senior David Powell, freshman Caleb Himpel, senior Dalton Lawson and freshman Patrick Rachford - all finished within two minutes of Brock.
"They weren't too far behind me. We're all running better as a team," Brock said. "I think we're more of a team this year than last year because our fifth runner last year was way behind."
Even with that improvement, Powell said the Chieftains didn't reach their full potential on Thursday.
"I think we could've been a lot better," he said. "We had a couple guys that weren't feeling very good today."
Not only was Powell suffering from stiff legs and a sore left ankle - "They were really killing me in the first mile," he said - but sophomore Joel Dunning wasn't feeling well either, suffering from soreness in his chest.
Tonganoxie's boys and girls will be on the road Thursday for the Atchison Effingham Invite, which begins at 4:30 p.m.
Girls
Team Scores
Lansing 22, Tonganoxie 35
Race Results
1. Andie Jeannin, THS, 16:30; 2. Melanie Pilkington, LHS, 17:12; 3. Mary Kate Meara, LHS, 17:25; 4. Julia Winkler, LHS, 17:37; 5. Julia Beemer, LHS, 17:47; 6. Addy Phelps, THS, 18:08; 7. Alex Hauk, THS, 18:23; 8. Kristen Fowles, LHS, 18:33; 9. Kayla Leffert, THS, 18:34; 10. April Elkins, LHS, 18:43; 11. Megan Hornick, LHS, 19:10; 12. Lauren Hall, THS, 19:26; 13. Christina Rubio, THS, 19:27; 14. Lauren Himpel, THS, 19:48
Boys
Team Scores
Lansing 27, Tonganoxie 28
Race Results
1. Brandon Craig, LHS, 16:59; 2. Matt Brock, THS, 17:44; 3. Pete Lamoe, LHS, 17:54; 4. David Powell, THS, 18:54; 5. Caleb Himpel, THS, 18:55; 6. Greg Bremser, LHS, 18:59; 7. Dalton Lawson, THS, 19:17; 8. Ezra Carpenter, LHS, 19:38; 9. Wes Appleget, LHS, 19:42; 10. Patrick Rachford, THS, 19:44; 11. Joel Dunning, THS, 20:12; 12. Tommy Heskett, THS, 20:56; 13. Dalton Harrington, THS, 20:57; 14. Michael Hornick, LHS, 21:45; 15. A.J. Glowacki, LHS, 23:25; 16. Matt McCurry, LHS, 24:41