November Patriots: Disconnect exists between populace, officials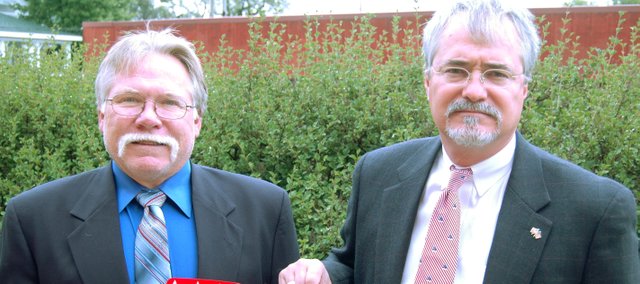 A grassroots effort to get voters involved in the election process and more informed is growing from the seed of one issue: immigration reform.
Richard D. Fry, Olathe, and Tom Stoffers, Tonganoxie, are two members of the November Patriots, a local group that is working to get the public more informed about issues.
Both Fry and Stoffers are Kansas advisers to the Federation for American Immigration Reform. In fact, they're in Washington, D.C., this week to meet with lawmakers about immigration reform.
However, they stressed that their cause through the November Patriots is not just about the immigration issue. According to Fry, there's a great disconnect between the elected official and the voter.
For instance, he mentioned Gov. Kathleen Sebelius voting against conceal and carry gun laws.
"Governor Sebelius vetoed conceal and carry, when in fact, the majority were in favor of it," he said. "It's another example of disconnect. Certainly she had the power to do it. It was an abuse of her power to do it."
The November Patriots attend various forums and town hall meetings and ask candidates, what Fry calls, "tough questions." Others in attendance often thank them for asking those questions of candidates.
The November Patriots are joining with the Linwood Development Corporation to sponsor a candidate forum from 7-9 p.m. Thursday at the Linwood Community Center.
"Seven to nine is when it runs, but we're willing to be there all night as long as they're willing to talk," Fry said with a laugh.
The forum is open to candidates at all levels. Information has been sent out to all candidates inviting them to the forum. But, Fry pointed out, not just Republicans and Democrats are welcome. He said Reform and Libertarian members were welcome also.
Stoffers and Fry touched on various issues. Regarding immigration, and, more specifically, paying tuition for students of illegal immigrants, they were strongly opposed.
"Our stance isn't they can't go to school, but why should the citizens of Kansas subsidize their education?" Fry asked.
The bottom line, Stoffers said, was to make politicians understand "we're the employer; they're the employees," he said, noting part of the responsibility as citizens is to ask elected officials questions and get real answers in return.
The main objective, Stoffers went on to say, is to make politicians understand voters need to be treated with respect.
"You need to feel like you can walk up to them and ask 'Why did you vote this way?' 'Why do you feel this way about this?'"
Fry chimed in quickly.
"And you need to ask them until you get an answer," he said.