Runners get crash course in cross country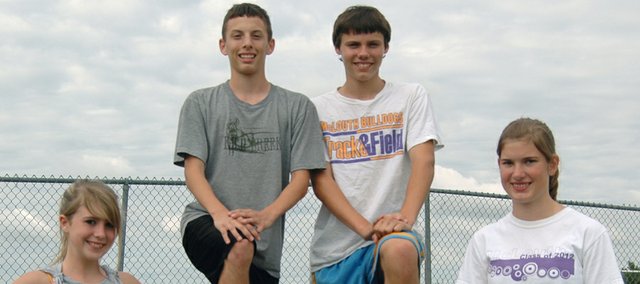 Fielding just six runners at a 14-team meet with more than 170 athletes, the McLouth High cross country team, featuring four first-year runners, got its first taste of competition on Thursday at the Shawnee North Community Center in Topeka.
The magnitude of the race could have been overwhelming for the four new Bulldogs - girls freshmen Caroline Overbaugh and Brittany Schuman as well as boys sophomore Derek Wright and freshman Kurtis Wampler. But McLouth's senior runners, Gelia Gardner and Jarrod Bechard, have competed the past three years for MHS and coach Jamie Noll said, with her assistance, the team's elders prepared the newbies for what they were running into at the Jeff West Invitational.
"They both have been great leaders," Noll said of Gardner and Bechard. "They've really tried to pass on the knowledge."
Still, it was the first race of the season and the volume of runners alone, the coach said, could make an experienced runner fret.
"If you've never been to a cross country meet, it's pretty intense," Noll said. "It's amazing how many people there are, and everyone takes off and it's just everywhere."
Wright admitted it was somewhat intimidating.
"You've got six going up against (teams) with 20 and older people than us," the sophomore said.
Nonetheless, the Bulldogs did just fine, bringing home two medals courtesy of Gardner's 37th-place finish (21:38) in the girls 4-kilometer run and Wright finishing 34th (21:59) in the boys 5K. That bested the MHS medal count - zero - for all of last year.
Wright said it was nice to pull off the feat in his first attempt.
"I was expecting to get close to a medal, but not quite get a medal," he said.
Once the MHS sophomore was running, his confidence grew.
"I started passing people, started feeling pretty good," Wright said. "I heard people (at the finish line) counting (runners) and figured I was getting close to medal and started finishing hard."
In the girls race, the MHS freshmen finished together. Schuman was 45th (22:33) and Overbaugh was 46th, just a second behind her.
In the 5K, boys senior Bechard finished 52nd with a time of 22:59 while Wampler finished 86th (25:10) in his first prep outing.
Noll, happy with the team's performance, said the Bulldogs have room for improvement.
"I think they realized they have a lot of work to do," the second-year coach said, adding that the Bulldogs got off to a nice start. "I told them: 'Don't get boxed in and get stuck in the back of the pack right away.' They all got our pretty well. Mid-race is when we slowed down a little bit."
Noll said the team was still getting used to running at this point and might not have had the right pace in its first outing. The coach, who ran cross country in high school for nearby Jefferson County North, noted a couple runners told her they weren't as tired as they thought they would be after the race.
Lesson to be learned, Noll said: "Well, that means you should've ran harder."
Wright said that's just one of the lessons the young runners picked up at their first event.
"We've got the fast people who have been here, the seniors, and we've got us (four) learning the courses but trying to get the best we can," he said, adding that they should learn a lot this year and improve as they gain experience.
McLouth's next opportunity to grow will come Saturday at Wamego at 9 a.m.