Judicial proceedings won't take place for Judge Stewart - if he remains in retirement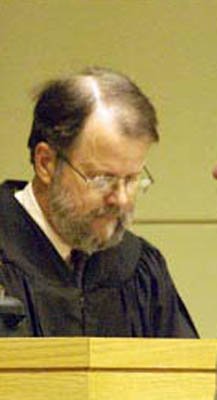 A judicial hearing pertaining to sexual misconduct allegations against a Leavenworth County District Court judge will not take place - unless the judge seeks employment again within the state's judicial system.
On Friday, a hearing panel of the Commission on Judicial Qualifications ordered staying judicial proceedings for judge Frederick N. Stewart "until such time as Respondent should seek or accept judicial assignments or seek another judicial position within the state of Kansas."
The panel made its decision in light of Stewart's intention to retire. He submitted a letter of resignation dated Aug. 28 and effective Oct. 1 with his intentions to retire at that time to Kansas Supreme Court Justice Kay McFarland. Stewart selected Oct. 1 so it would coincide with the retirement of Atchison County District Court Judge Philip Lacey and facilitate the work of a nominating committee, which will conduct interviews and submit nominees to Gov. Kathleen Sebelius for appointment to the vacant benches. Leavenworth and Atchison counties are in the First Judicial District.
The Commission on Judicial Qualifications issued a notice of formal proceedings June 30 against Stewart, documentation that outlined allegations of sexual misconduct against a former employee.
On Aug. 19, Stewart filed documentation with the commission denying the allegations.
Stewart has been on the bench since 1977.