Chieftains avoid weather, gain a win at Osawatomie
Tonganoxie wins first road test, 23-6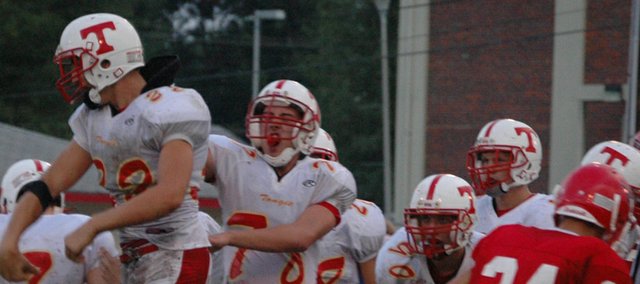 While most of the area got drenched with rain Friday night, the Tonganoxie High football team traveled far enough away to avoid practically any precipitation and all possible rescheduling headaches, taking the field as planned at Osawatomie.
The Chieftains took advantage of the opportunity and defeated the Trojans, 23-6.
On a drive that began in the scoreless first quarter, THS went 94 yards in 5:25, taking the lead for good with 8:26 to go in the half following a three-yard touchdown run by junior running back Austen Holloway.
Tonganoxie's next score was less conventional. After a failed offensive drive, THS punter Zack Robinson pinned the Trojans on their own five-yard line with a 36-yard boot. A couple of OHS penalties and a botched snap later, a gang of Chieftains took down Osawatomie quarterback Seth Jones in the end zone for a safety to give THS a 9-0 lead that it took to halftime.
The Chieftains (2-0) didn't score until their third possession of the third quarter, but Robinson, the senior QB who also punts and kicks and carried 17 times for 147 yards, found the end zone on an 11-yard rush, then kicked the extra point to make it 16-0, THS.
Osawatomie finally scored in the fourth quarter after getting the ball at the THS 22-yard line following a fumble by Jeremie Maus. Backup quarterback Dylon Needham hit Sean Callahan for a nine-yard touchdown pass with 8:29 remaining in the game. Down 10, OHS went for two, but failed to convert.
The game's final score came with just 1:10 to go as Tonganoxie responded to the Trojans' score by killing the clock with a 7:19 drive that ended with Holloway running in his third TD of the season.
THS threw the ball just three times at Osawatomie for no completions and no yards. But the Chieftains did plenty of damage with their rushing attack.
Along with Robinson's impressive night, Jeremy Carlisle ran 13 times for 77 yards, Maus carried 11 times for 47 yards and Holloway rushed eight times for 36 yards. In total, Tonganoxie rushed with seven different players and tallied 325 yards on the ground.
For more on the Chieftains' road opener, see Wednesday's print edition of The Mirror.