Skate park, Fourth Street Phase
III

projects to be discussed at Monday's Tonganoxie City Council meeting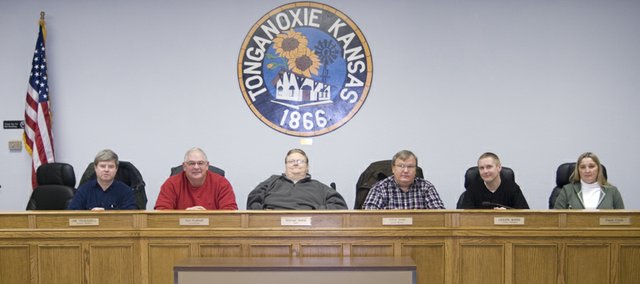 The Tonganoxie City Council will consider awarding a bid and contract for the Tonganoxie Skate Park at Monday's City Council meeting, set for 7 p.m. at City Council chambers.
Also at the meeting, the council will hear a report on Tonganoxie Water Park after it's first summer of operation. And, the council will discuss entering into an agreement with a consulting company for easement acquisitions for the Fourth Street Phase III project.
Here is the complete agenda:
I. Open Meeting 7:00 p.m.
II. Consent Agenda - (Routine & Customary Items)
a. Approval of Minutes
1. Regular Rescheduled Meeting dated September 2, 2008
b. Consider Approval of Bills Approve Pay Ordinance A-1590
III. Open Agenda
"Members of the public are welcome to use this time to comment about any matter relating to City business. The comments that are discussed under Open Agenda may or may not be acted upon by the Council during this meeting. Please wait to be recognized by the Mayor, then state your name and address and all comments are to be directed to the chair."
IV. Old Business
a. Consider entering into an agreement with Huffman Corridor Consulting, LLC for easement acquisitions associated with the Fourth Street Phase III project.
b. Consider Contract for City Administrator Services
V. New Business
a. Leavenworth County Port Authority Update on Industrial Site Search
b. Consider award of bid and contract for construction of the Tonganoxie Skate Park
c. Darren Shupe Tonganoxie Water Park Report
d. City Administrator Agenda
1) 2009 Joint Legislative Agenda
2) City support of installation of water line for new ballfields
3) Traffic Speed survey results Willis Drive
e. City Attorney Agenda
f. Mayor's Agenda
g. Council President Agenda
h City Council Agenda
VI. Adjourn
VII. Information & Communications (No Action Required)
a. Free workshop research and portray the Leavenworth County character of your choice
b. Press Release Leavenworth County is approved as the 2010-2011 Sampler Host
c. Tonganoxie Recreation Commission Meeting August 21, 2008
d. Water purchased and sold PWWD#6
e. KMIT City Safe Newsletter
f. Downtown Development Opportunities Meeting Announcement and agenda