Chieftain girls run to victory
Boys miss team title of their own by just a single point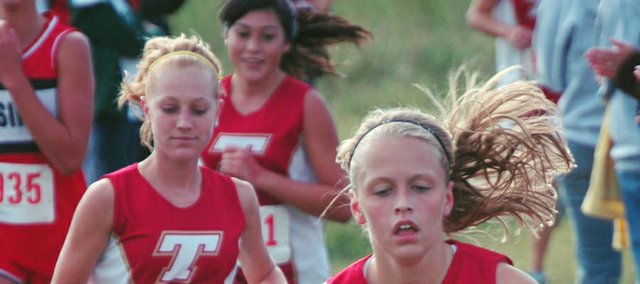 A single point. Just one. That's it.
One measly point kept the Tonganoxie High cross country teams from sweeping the Atchison County Invite on Thursday.
The girls won the team title in Effingham, besting Perry-Lecompton by 15 points. But the boys finished a point behind champion Hiawatha just one week after losing a dual to Lansing by the same margin.
"I really feel like our girls have the potential to be one of the better 4A teams in our area," coach Phil Williams said.
The girls took first with a comfortable margin by placing four runners - junior Andie Jeannin, senior Addy Phelps, sophomore Alex Hauk and junior Lauren Hall - in the top 10.
Phelps said that was huge for the Chieftains.
"That's a big deal. I don't remember ever having anything like that happening before," she said. "Just us being close together shows how hard we're working in practice and we're pushing each other, which is good."
Jeannin, who finished fourth, explained how THS was able to win a 12-team meet a week after losing a home dual with Lansing. She said competing against more runners actually helped the Chieftains.
"Lansing, they had so many talented runners and when you only have two teams nobody can get spaced out," she said.
Williams was happy with the performances of all his runners.
"Andie Jeannin ran another good race, and Lauren Hall ran much better," he started. "Addy Phelps was strong again, and Alex Hauk is beginning to get back in shape after a great freshman season. Kayla Leffert is one of our most consistent runners, and Lauren Himpel finished strong with Cristina Rubio right behind her."
The boys were painfully close to winning a team title as well. Senior Matt Brock finished the 5-kilometer race in 17:43, good enough for second place on a muddy day. Although freshman Caleb Himpel finished 10th and senior Dalton Lawson was 11th, the Chieftains fell just shy of Hiawatha.
"It is frustrating for our boys to get beat by one (point) two meets in a row, but I think we will be improving," Williams said, noting injuries to David Powell (ankle), Brock (calf) and Justin Soetaert (knee). Soetaert, the team's No. 3 runner last year has yet to compete because he has not received medical clearance.
"When we get over our injuries it should help," Williams said.
Still, the performances of other THS runners were encouraging.
"Caleb Himpel is getting better every meet, and Dalton Lawson ran his best race," Williams said. "I expect Joel Dunning to improve, too."
Powell thinks the team hasn't yet met its potential.
"We're really close to being a great team," he said after finishing 13th on Thursday. "Hopefully we can get our times down and we can compete for a league championship and be up there with some of the best teams in the state."
If the Chieftains get to that point, underclassmen such as freshmen Himpel and Patrick Rachford will have to play a major part. Himpel, who finished less than a minute behind Brock, the team's best runner, found positives and negatives in his top-10 performance.
"It was pretty cool, but I was kind of disappointed because in the last hundred yards I passed a kid and he beat me at the finish line," Himpel said, explaining that in the last 10 yards he ran out of energy and didn't have his normal kick after trudging through the muddy course.
Williams said things won't get any easier for the boys or girls at their next meet - Saturday at Wyandotte County Park in the Bonner Springs Invitational.
"There are mostly 5A and 6A schools there, so we will be tested," he said.
Races begin at 10 a.m.
THS Results
Girls 4K
Varsity
4. Andie Jeannin, 17:49; 6. Addy Phelps, 18:56; 7. Alex Hauk, 19:49; 8. Lauren Hall, 19:54; 15. Kayla Leffert, 29:20; 16. Lauren Himpel, 20:34; 17. Cristina Rubio, 20:36
Junior Varsity
1. Nicole Gersbeck, 221:28; 2. Sarah Williams, 21:47; 3. Lindsey Cox, 21:48; 8. Melissa Hughes, 22:19; 10. Taylor Clark, 22:24; 12. Lexi Faherty, 22:39; 15. Hanna Swedo, 23:14; 21. Lauren Hughes, 27:45; 22. Rachel Collinger, 29:51
Boys 5K
Varsity
2. Matt Brock, 17:43; 10. Caleb Himpel, 18:32; 11. Dalton Lawson, 18:50; 13. David Powell, 18:54; 14. Joel Dunning, 19:00; 24. Patrick Rachford, 29:19; 25. Matt Titterington, 20:22
Junior Varsity
1. Tommy Heskett, 20:14; 3. Keith Slater, 20:37; 5. Brady Field, 20:50; 7. Cooper Gish, 21:07; 8. Robert Brotherton, 21:25; 10. Caleb Iankui, 22:11; 13. Daniel Holton, 22:19; 15. Dylan Anderson, 23:08; 18. Kavet Letourneau, 24:04; 19. Ben Field, 24:09; 21. Stephen Wilson, 25:00; 22. Bobby Edmonds, 25:01; 25. Wyatt Letourneau, 28:07