Chieftains get 'old-fashioned' win
Tonganoxie runs wild for 347 yards, 3 TDs; holds
OHS

to 62 total yards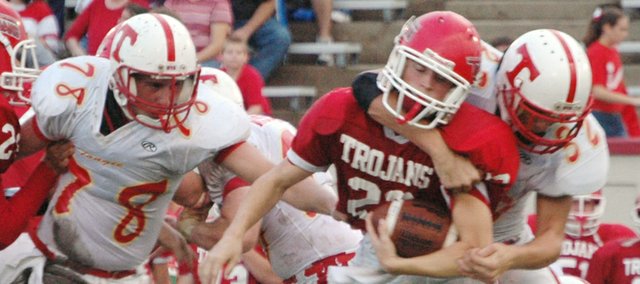 OSAWATOMIE — Following more than three quarters of shutout football, Tonganoxie High finally allowed a score at Osawatomie with 8:29 remaining in the fourth quarter Friday night.
With the lead cut to 10, the Chieftains knew what they had to do: Keep running the ball and watch those final minutes of game clock disappear.
THS coach Mark Elston decided before the ensuing drive that his team wasn't going to punt, but it never came to that anyway. Tonganoxie responded to the Trojans' score by killing the clock with a 12-play, penalty-free, 7:19 drive that ended with Austen Holloway running in his second touchdown of the evening, leading the Chieftains to a 23-6 victory in their first road contest.
"That's old-fashioned Tongie football, chewing eight or nine minutes off the clock," Elston said of the final drive.
Junior running back Holloway said his 27-yard TD with 1:10 to go was created by great blocks from Dylan Faulkner and Jamie Everett, and it was the ideal way to end the contest.
"The whole team clicked on that play," he said. "It was the perfect play."
If there was an imperfection for THS (2-0), it was the passing attack. Tonganoxie completed no passes on three attempts on a wet, muddy field, but that hardly mattered. A week removed from scoring a single offensive touchdown in its opener, THS ran for three scores at OHS, racking up 347 yards on 64 carries.
Senior quarterback Zack Robinson, who ran in an 11-yard touchdown in the third quarter, racked up 139 yards on 15 carries. But he was just the chairman of a running back committee that featured seven runners - four of which had at least 13 carries.
Holloway, who has three of Tonganoxie's five touchdowns this year, scored on two of his 15 runs while compiling 51 yards. Sophomore Jeremy Carlisle carried 13 times for 80 yards and fullback Jeremie Maus rushed for 53 yards on 14 carries.
When you're running the ball that much, it helps to have multiple effective runners, Holloway said.
"We can rotate a lot of backs in. There's not one star player - everybody can play," he said, noting how mixing up ball carriers is important. "It helps us all stay fresh, if somebody gets injured you know you can rely on somebody else."
Just as important, the offense can rely on the defense. The Chieftains have allowed two touchdowns in eight quarters this season and Osawatomie's lone score came on a short field following a Maus fumble - the Trojans only had to travel 22 yards to get their touchdown.
Tonganoxie's defense was swarming throughout the contest. The Chieftains held Osawatomie to 52 rushing yards on 29 carries and 10 passing yards, all of which came on the Trojans' fourth-quarter touchdown pass, their only completion of the night.
That score came one play after a first-and-goal attempt from the one when junior THS linebacker Jeremy Elliott sacked OHS QB Seth Jones, sending him to the bench with an injury. Needless to say, THS wasn't expecting second-string quarterback Dylon Needham to throw on his first play. But he did. And he found receiver Sean Callahan open in the end zone. Elston chalked that mistake up to the coaches.
"We didn't have them prepared for the backup quarterback to pass," he said. "We didn't give our cornerbacks a real good chance of success on that."
That was the only mistake for the defense on the evening as the Chieftains made a habit of gang-tackling the Trojans, even getting the rare chance to do so on a safety in the second quarter (set up by a 36-yard Robinson punt that pinned OHS on its own five-yard line), when at least four THS defenders converged on Jones.
Elliott, a junior linebacker who was one of the Chieftains in on the safety, said the defense just keeps it simple.
"We basically force everything inside and it allows the linebackers and everyone to make tackles," he said.
Senior lineman Everett said the defense was ecstatic about the chance to put two points on the scoreboard because they already are an excitable bunch.
"Everybody gets pumped up to go out and crack some people's heads," Everett said. "We just have the mentality to go out and not let them get yards."
THS travels to Perry-Lecompton on Friday for a 7 p.m. kickoff with the Kaws.
SCORE BY QUARTERS
THS 0 9 7 7 - 23
OHS 0 0 0 6 - 6
RUSHING
THS: Zack Robinson 15-139, Jeremy Carlisle 13-80, Jeremie Maus 14-53, Austen Holloway 15-51, D.J. Lindsay 2-10, Tucker Hollingsworth 4-10, Dylan Scates 1-4.
PASSING
THS: Robinson 0-3-0.
HOW THEY SCORED
SECOND QUARTER
(8:29) Austen Holloway, THS, 3 run. Zack Robinson kick. (Tonganoxie 7, Osawatomie 0).
(2:52) THS defense, safety. (Tonganoxie 9, Osawatomie 0).
THIRD QUARTER
(1:19) Robinson 11 run. Robinson kick. (Tonganoxie 16, Osawatomie 0).
FOURTH QUARTER
(8:29) Sean Callahan, OHS, 9 pass from Dylon Needham. Run failed. (Tonganoxie 16, Osawatomie 6).
(1:10) Holloway 27 run. Robinson kick. (Tonganoxie 23, Osawatomie 6).