Chieftains lack 'fight' in home triangular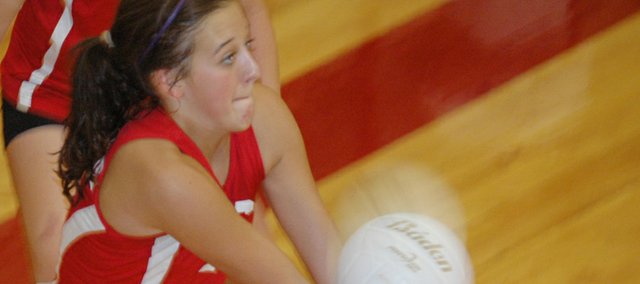 Tonganoxie High was at home Tuesday in body, but after the Chieftains failed to win a game and dropped two matches to visiting squads, co-coach Brandon Parker couldn't help but wonder where the players were in mind and spirit.
"We weren't here tonight," he said after THS lost to Paola, 25-22 and 25-21, and DeSoto, 25-20 and 25-16.
"We didn't have the fight in us that we had last week," Parker said, referring to the team's victories against Holton and Baldwin.
According to Parker, THS (2-2) opened the evening looking like "deer in headlights" against PHS, but still came back and made things close, despite numerous mishaps.
"We had opportunities," the coach said, "but I'm sure if you go through and look at stats, you'll see how many errors we had."
In its second match of the triangular, Tonganoxie couldn't equal the fire of the Wildcats.
"DeSoto came out with more energy than us. You always lose to that. I don't care who you are," Parker said, emphasizing the importance of momentum in volleyball. "The other team plays with more energy than you, you lose."
Tonganoxie's disappointed coach said the Chieftains had no one to blame for the home losses but themselves.
"I'm not sure a team beat us tonight, besides us," he said, pointing out that he didn't want to take anything away from DHS or PHS.
If the Chieftains want to get back on track, they don't have much time to recover. THS is on the road Saturday for what should be a competitive tournament at Rossville.
"We've got a couple of big weeks ahead of us," Parker said.
As the team attempts to rebound from Tuesday's setbacks, its coach said his young squad will get back to fundamentals and, hopefully, play with more desire.
"Without passion," he said, "it doesn't matter."
The Rossville Invitational begins Saturday at 8 a.m.