Volleyball players share load in dual wins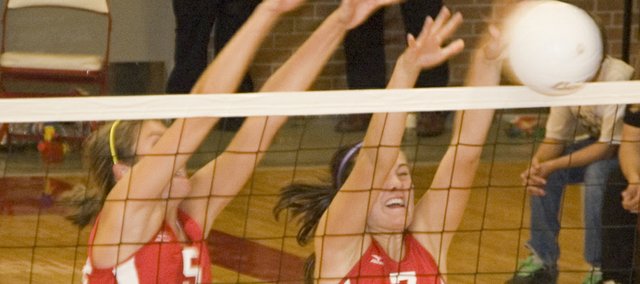 The Tonganoxie High volleyball season didn't start until this past week, but the Chieftains got right down to business, defeating Holton at home and Baldwin on the road on back-to-back nights.
Most importantly, though, they got the whole team involved in the pair of dual victories.
"Everyone's contributing," Tonganoxie High co-coach Brandon Parker said. "We're fairly steady and everyone's kind of pulling their weight right now. Sometimes you get teams where you have that one player or maybe two players that just are carrying you and you know that. The last two (games), everybody's played a part."
In defeating Holton in five games and Baldwin in four, THS (2-0) sophomore Molly O'Hagan registered 23 kills and junior Abby Eisman put away 21. Senior Chrissie Jeannin racked up 64 assists in nine games. Defensively, the Chieftains were led by senior Megan Puhr and sophomore libero Megan Hummelgaard. The libero had 56 digs while Puhr had 53.
Eisman said each player on the roster took an important role.
"All of us are pretty equal right now," she said before describing how the team was excited about starting the season with wins on consecutive nights.
"It feels really good. We've been working hard," said Eisman, who served five aces against Holton. "We didn't know how our season was going to go but we got off to a good start so we're all really pumped about it."
Tonganoxie didn't get off to the best possible start against Holton - the Chieftains lost the first game of the evening, 25-14. O'Hagan, who led THS with eight blocks through two matches, said nerves were a factor early on with the bulk of the lineup, save Jeannin, lacking much varsity experience. The Chieftains rebounded nicely, taking the next two games, but O'Hagan thought the nerves reappeared in the fourth game with the pressure of finishing off an opponent. That's when their coach gave them a little positive reinforcement.
"Parker told us: 'We've got this,'" O'Hagan said. "We'd been playing hard all night. We didn't want to give it up."
And they didn't.
"By the fifth game, we just all came together and knew what we had to do," she said of the victory-clinching 15-7 win against Holton.
With such a relatively young team, O'Hagan said, some struggles were expected.
"The first night, especially, we were working out some kinks. But as the games go on, we'll make those little adjustments. It's starting to click," she said with an air of confidence.
That's a characteristic Parker likes to see from his players.
"The really good sign with these kids is that they're going for it," he said. "It may not always work out in their favor but right now they're not showing fear and trying not to lose - they're playing to win."
The coach also liked how the Chieftains battled through adversity at Baldwin when THS dropped the first game on the Bulldogs' senior night.
"We were kind of in a funk in Game 1, but it's good, especially with a young team and seeing how they respond," Parker said. "Both nights they showed a lot of character with staying in there. There were chances for them to fold and they kept fighting."
Eisman said that comes from the team's unity.
"The only thing we're trying to focus on right now is playing together," she said.
Parker said if they want to keep winning, there are two skills they'll need to master.
"We're always going to focus on passing and defense," he said. "If you can't do those two things, there's no use really working on anything else."