Denholm's sweet on cake art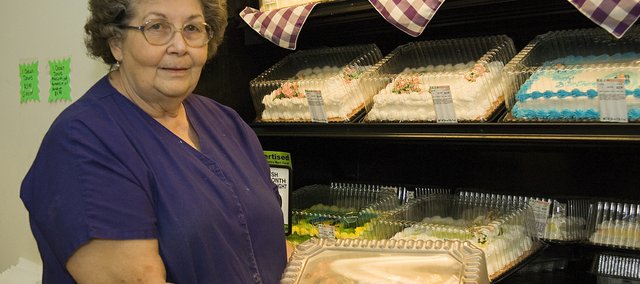 If you have bought a cake from B&J's Country Mart at some point, odds are you've probably seen some of Nila Denholm's handiwork.
For more than 20 years, Denholm has been waking up before dawn to get ready for another day at the bakery. She gets to work at about 4:45 a.m. and starts working on that week's cake orders.
For Denholm each week is always different. In May graduation cakes are the hottest item. In the summer and fall wedding cakes are very popular. And sprinkled throughout the year are hundreds of birthdays.
Not only does she have to keep up with the seasons, she also has to keep up with ever-changing names.
"People will give you a name and you try to do it the traditional way and they have it spelled all differently," she said. "Soon enough they are going to go back to the original way and think they've really done something new."
The job was a perfect fit for Denholm who enjoys spending time with people. In fact, that was on of her reasons for staying in Tonganoxie after she came here from Greely Colo. in 1965.
"I really do enjoy the people," she said. "The people of Tonganoxie have been so nice to my family over the years."
When she isn't making butter-creamed masterpieces, she likes to spend her time at home on her husband's family farm researching family history.
Denholm said her husband of 43 years, Walter, was born on the farm and so was his father. She has traced the family history on their more than 300 acres of land to the 1800s.
"A few years ago, we got an award for being a century farm: for having the farm in the family for 100 years," she said.
She said the kids and grandkids love the farm and when they are around they like to go walk in the wooded are that surrounds them.
Denholm likes the area because there are many deer and wild turkey that live around there.
Some of her neighbors have noticed the creatures too.
"People have seen about 200 turkeys at a time out there on the hayfield," she said.
And when it comes to her grandkids Denholm doesn't skimp on the affection.
"They aren't spoiled they're just loved a lot, " she said.
Getting to know your neighbor
Family: Walter Denholm, husband. Four sons: Rodney, Robbie, Jimmy and Jeff. Six grandkids.
What clubs and organizations do you belong to?
First Congregational Church, American Legion Post 41, volunteer at the Florence Riford Senior Club
What is the best advise you've ever received?
"Always try to take it one day at a time."
What do you do for fun?
"I like to garden a lot and mess with flowers. This year wasn't a good year to garden. It was too wet."
What do you like most about Tonganoxie?
"The people. They have been very good to us.
What brought you to Tonganoxie?
"I had an aunt that lived up here. A favorite aunt. I came up to see her and ended up staying."