Grandparents Day attracts hundreds
First middle school G-Day successful;
TES

breaks record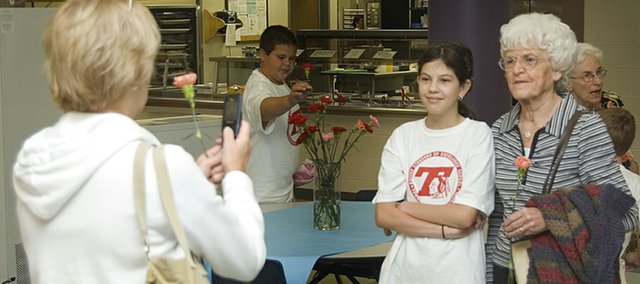 The front entrance of Tonganoxie Elementary School nearly resembled a scene outside a music hall, complete with fans waiting to see their favorite rock band.
Instead of fans, however, they were grandparents. And instead of that headlining band, the main event was the opportunity to see their grandchildren.
TES continued its longstanding tradition of Grandparents Day, as roughly 600 grandparents converged upon the school Friday afternoon.
But for the first time, the event also was held at Tonganoxie Middle School. Grandparents visited TMS in the morning. Grandparents then went to TES in the afternoon.
According to TMS principal Jill Dickerson, more than 300 grandparents attended the morning event. Breakfast was served to the grandparents and their grandchildren presented them with carnations before they left the middle school late Friday morning.
Ruth Espy, great-grandmother of fifth-grader Rachel Elliott, said the Grandparents Day activities were "wonderful," as Espy made it to both the middle school and elementary school festivities.
"Just like the shirts say, excellent," Espy said, referring to her great-granddaughter's T-shirt, which were TMS shirts that read: "Standard of Excellence."
Rachel's grandmother, Dot Espy, also was on hand for the day.
Dedicated grandparents
Rachel Elliott's grandmother and great-grandmother live in Tonganoxie, but at TES, another combination of grandmother and great-grandmother made a much longer jaunt to see their grandchildren.
Trudy Reiss and Geth Gillette are grandmother and great-grandmother to Keaton and Kylie Rickard, who attend TES. Reiss lives in Plains, which is in southwest Kansas. Gillette also lives in that area of the state, Reiss said.
That's about 360 miles away, but Reiss said this marked the fourth Grandparents Day she has taken part in at the elementary school.
"It's great," Reiss said about the event, noting she was glad she's been able to make the long trip year after year to see her grandchildren.
Friday, Reiss worked with her grandson, Keaton, on an activity in the TES north gymnasium in which they stood on boards that resembled skis. Ropes connected handles to the boards, which require teamwork.
"Left, right, left, right," Reiss would say to her grandson as they moved about an area of the gym floor on the boards.
TES physical education teacher Ursula Kissinger said she was impressed with the turnout, especially considering the soggy weather Friday.
"There's a lot of community support, I'd say," Kissinger said.
Back in school
At TES, Mike and Mary Ann Fales of Olathe were visiting their great-granddaughter, Sidney Murphy.
It was a great opportunity to see their great-grandchild, but for Mike Fales, it also was a chance to see his childhood school.
Fales attended Tonganoxie as a seventh- and eighth-grader from 1955-57. At that time, elementary and middle school classes met in what is now the elementary school, with the former high school nearby. However, Fales said the north wing where Sidney's classroom was did not exist when he went to school.
Fales later attended school at Washington High School in Kansas City, Kan., but quit school his senior year, as he was told he wasn't very intelligent.
However, in 1995, he attempted to get his GED. He kept failing the test, but he then took a test for dyslexia and found out he had the condition. Upon taking the GED again, Fales passed with flying colors.
As for returning to Tonganoxie to see his great-granddaughter, Fales said it was a wonderful experience.
His wife, Mary Ann, agreed.
"Oh, my gosh, it's unbelievable," she said about the attendance. "Just a wonderful turnout."
Their great-granddaughter said she had been thinking about the big day "probably for a week."
"I think it's nice," Sidney said.
There's always a good turnout for the event, but TES principal Tammie George said the turnout appeared to be the best since she came to Tonganoxie in 1994.
"From what we cold recall that seemed to be one of the largest turnouts in recent history," George said.