Speedway proposal awarded casino project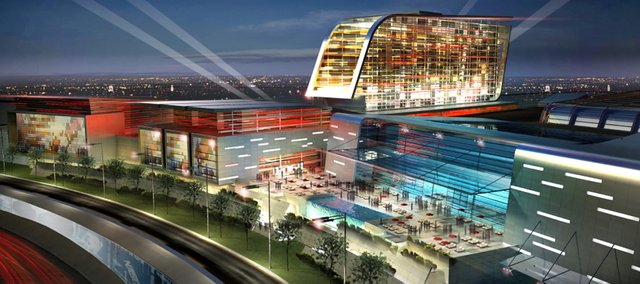 Kansas City, Kan. — Kansas Speedway and The Cordish Company say the Kansas Lottery Commission has awarded their joint venture, Kansas Entertainment LLC, the casino management contract for Wyandotte County.
With the contract, the Speedway and Cordish say, the Hard Rock Hotel & Casino at Kansas Speedway is scheduled to open in 2011.
The 1.5 million square-foot project, with a cost of approximately $705 million to construct, will include a 300-room luxury hotel; a state-of-the-art casino with 3,000 slot machines and 140 gaming tables; 275,000 square-feet of destination retail, dining and entertainment including a live music venue; first-class resort amenities; and extensive meeting and convention facilities.
The development will be in view of the Kansas Speedway's Turn 2 with strong visibility and access to both Interstate 70 and Interstate 435.
"This is a great day for the citizens of Wyandotte County and the state of Kansas," said Kansas Speedway president, Jeff Boerger said in a release. "The Hard Rock Hotel & Casino will be a state-of-the-art gaming, entertainment and retail destination development that will attract eight million tourists annually from across the country to the Kansas City region. In addition, now that we have been given the green light to develop one of the nation's most unique sports and entertainment projects, we look forward to moving forward with our other announced plans. This includes requesting that NASCAR move a second NASCAR Sprint Cup Series race to Kansas Speedway. I look forward to NASCAR's premier stock car series racing twice a year in the nation's heartland by no later than 2011."
As part of its comprehensive commitment to the Kansas Lottery Commission, Kansas Entertainment plans to open a first phase gaming facility on-site in 2009. The initial facility, which will include approximately 2,000 slot machines and 75 gaming tables, will operate during construction of the overall hotel casino and entertainment development and is projected to generate in excess of $200 million in annual revenues.
"We applaud the exhaustive efforts of the Kansas Lottery Commission members and other state and local leaders in evaluating the merits of the various proposals," said Joe Weinberg, a principal in The Cordish Company. "In the end, they chose the project that will truly create the most benefit for the people of Kansas. Like we have done so successfully in other communities across the country, including in Kansas City, Mo., with the Kansas City Power & Light District, Cordish looks forward to creating a unique destination development that will further enhance Kansas City's attractive image."
The combined impact from the existing Kansas Speedway, the proposed destination development, and other commitments from Kansas Entertainment as part of its proposal to the Kansas Lottery Gaming Facility Review Board is expected to generate a $620 million annual economic benefit for the community.
Kansas Speedway currently has an annual economic benefit of $243 million for the community. The Hard Rock Hotel & Casino will provide an incremental economic benefit of $243 million per year.
In addition, as part of its proposal, several significant commitments were made by Kansas Entertainment that will drive approximately $140 million in incremental annual economic impact for Kansas taxpayers. These commitments include:
¢ Kansas Speedway will petition NASCAR to realign a second Sprint Cup series date to the facility, which will result in an additional $111 million in annual economic benefit for the region.
¢ A permanent infield road course will be constructed at Kansas Speedway that will attract car enthusiasts from across the country to enjoy Grand-Am sports car races, as well as Sports Car Club of America and other car club member events. These combined activities are estimated to provide well in excess of $15 million per year in financial benefit for the community.
¢ Kansas Speedway's current NASCAR Sprint Cup Series race sponsor, Camping World, will bring an annual national RV rally to the speedway beginning in 2010 that will provide approximately $10 million of positive economic impact each year.
¢ Kansas Speedway will provide the state of Kansas two free track-side billboards at the speedway during the entire term of Kansas Entertainment's Lottery Gaming Facility Manager's contract. These billboards will be used to promote tourism for the state of Kansas to a national audience, and are estimated to provide almost $2 million in annual economic benefit.